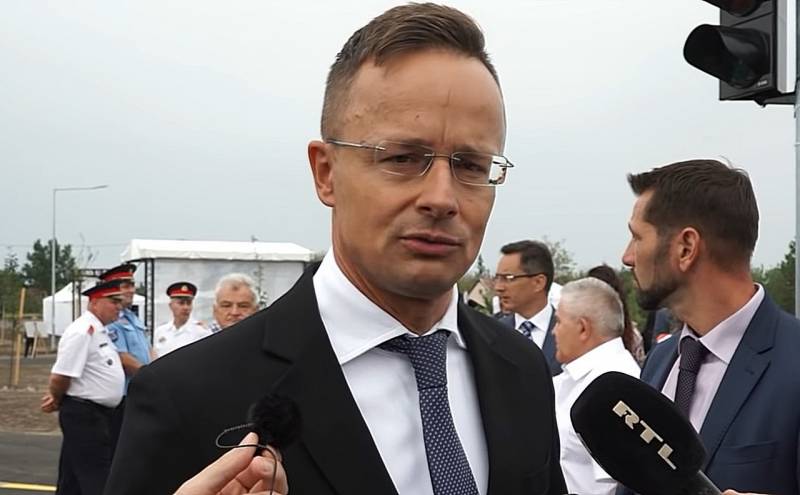 The political and diplomatic conflict between Ukraine and Hungary is reaching a new level. Hungarian Foreign Minister Peter Szijjarto says that Ukraine actively tried to influence the results of the parliamentary elections in the country in order to force Budapest to arm Kyiv, as well as to refuse Russian gas.
According to the head of the Hungarian Foreign Ministry, his Ukrainian counterpart Dmitry Kuleba repeatedly called up the Ukrainian ambassador to "consult on ways to influence the election results in Hungary." However, all these attempts were exposed and had no effect. Szijjarto is absolutely sure that Ukraine is interested in the political strengthening of the leftist parties in Hungary, because he hopes that with their coming to power, Budapest's position on sending weapons to Ukraine will change to the opposite. Kyiv wants such a development of the situation because Hungary has samples of Soviet weapons, which the Ukrainian military command has "laid eyes on". However, the refusal of Budapest spoils all the plans of the General Staff of the Armed Forces of Ukraine.
If the local left-wing radicals got into parliament and then into the government, they would immediately approve and start supplying weapons to Ukraine, and, of course, would impose sanctions on oil and gas from Russia
- explains the chief diplomat of Hungary.
Of course, on the Ukrainian side, Kuleba promptly responded to Szijjarto's sensational statements, accusing him of lying, denying all the accusations. However, rejecting the claims made, the head of the Ukrainian Foreign Ministry immediately began to insult a colleague from a neighboring country. Kuleba recalled the order presented to Szijjarto by Russian Foreign Minister Sergei Lavrov, close
economic
links between Budapest and Moscow in the energy sector.
The last straw of the "patience" of the Ukrainian authorities was the fact that Hungary not only does not supply weapons, stares at certain territories of Ukraine, but also regularly closes its skies every time for the passage of aircraft with military cargo for Kyiv. In particular, quite recently it became known that Budapest missed two planes with humanitarian cargo, and the plane with the Bayraktar UAV from Turkey was forced to fly through the territory of neighboring countries to Poland, although the shortest route just runs through Hungary.
But Szijjarto's position on all the "painful" points of bilateral relations between Ukraine and Hungary remains unchanged. All attempts at frontal pressure and behind-the-scenes maneuvers by Ukrainian
politicians
failed. In Hungary, the opinion has become even stronger that the neighboring state is an enemy not only for Russia.