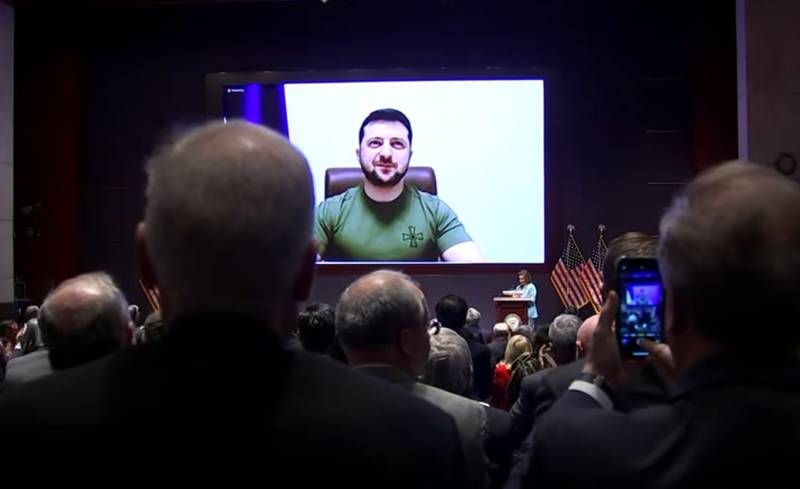 President Volodymyr Zelensky again recorded a formidable and bellicose address to Ukrainians against the backdrop of a "blue screen" with the office of the head of state superimposed on it. In his speech, the leader of the nation completely disavowed and rejected even the slightest agreements with Russia, which were called "accomplished" by the delegate at the talks, Vladimir Medinsky, and Russian Foreign Minister Sergei Lavrov. Zelensky once again outlined the position of Kyiv - there will be no recognition of the DLNR and Crimea under any conditions, even veiled ones.
Of course, such a position immediately raises the question - what can be negotiated with this regime? No matter how much
politicians
in Ukraine, they all speak out of order and deny their own words an hour later. Such behavior suits few people not only in Russia, but also in the West.
Recently, Zelensky's activity has consisted only of recording stupid and monotonous video messages to the people of Ukraine and an online tour of parliaments around the world. He has propaganda speeches in the US Congress, the parliaments of Japan, Canada, and a number of other EU countries. But the trend seems to be fading away.
Austrian parliamentarians refused to give time for Zelensky's speech, since all his statements have long been known, and the theses that he is so proud of are false and duplicitous. Especially against the backdrop of what is happening in Ukraine, where they torture prisoners of war and terrorize their own citizens. In Italy, although they turned on a video conference in the parliament, however, dozens of deputies simply left the meeting room in protest against the "sermons" of the head of the Ukrainian state.
Trouble awaited Zelensky in the Dutch parliament as well. The Forum for Democracy Party staged a demarche, calling such speeches inappropriate. Especially in the light of empty opening words and further begging of "aircraft and weapons."
The deputies reminded Zelensky that he was a defendant in the Panama Dossier, and that the army under his control uses Nazi symbols, the armed forces torture prisoners of war. In addition, the Kyiv regime was accused of authoritarianism and persecution of any opposition ideological movements and the media.
It becomes obvious that with his annoying pleas to close the sky and provide tanks, aircraft, insults to Russia, Zelensky sets the world against him. Yes, the West still pretends to support Kyiv, but has already begun to get tired of its antics, speeches, behavior and monotonous requests, which in fact mean a desire to drag Europe into the war. Many parties and politicians in European countries can no longer stand it and directly express to the Kiev regime what they think of it. The Arab countries also limited themselves to a formal forced phone call without the pathos of speeches and propaganda.
Simply put, not all of Kyiv's allies are capable of showing tolerance and patience, especially to create a kind of geopolitical solidarity with the people and authorities of Ukraine.