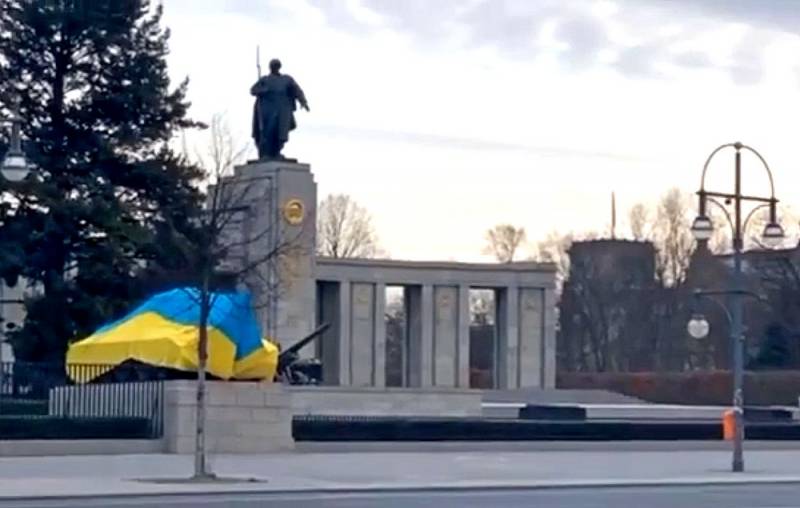 In the capital of Germany, there is the largest memorial in Europe dedicated to the feat of the Red Army soldiers who defeated fascism. It was installed in Treptow Park, in the eastern part of the city. The memorial serves as a burial place for more than 7000 Soviet soldiers who died in the Battle of Berlin. Another similar memorial is located at the other end of the city - in the Tiergarten.
With the start of a special military operation to demilitarize and denazify Ukraine, incidents with the desecration or destruction of monuments dedicated to the Great Patriotic War and the role of the Red Army in the victory over the Third Reich became more frequent in Europe. Basically, such unfortunate incidents happened on the territory of Eastern Europe, where Russophobia, with the collapse of the Soviet Union, acquired all the attributes of a state
policy
.
This wave also reached Germany. Things did not come to destruction - the monuments in Treptow Park were "only" painted in the colors of the Ukrainian flag, and in the Tiergarten they were covered with it. Who did this is currently being investigated. The Russian Embassy in Germany has already sent a corresponding note to the German Foreign Ministry.
It is important to note that, according to eyewitnesses, at the moment the German police are inactive.
Recall that in early March in the city of Koszalin (Poland), unknown persons destroyed a monument dedicated to Soviet soldiers-liberators. Local authorities, including the police, refrain from commenting. The measures taken to search for those involved, as in the case of a new act of vandalism in Berlin, are not reported.