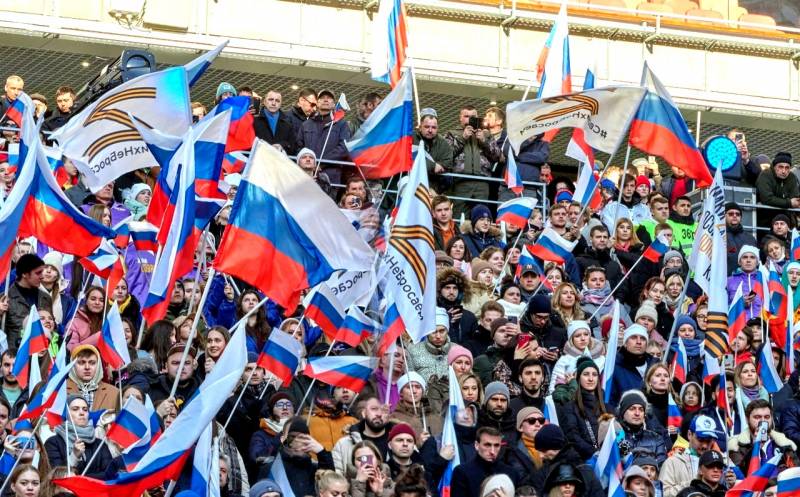 After the start of a special operation to demilitarize and denazify Ukraine, Russia faced opposition from the West, which imposed many
economic
sanctions in the desire to break the will of Moscow and help the Kiev regime.
The calculation of Western analysts was that a tangible blow to the wallet of the Russians would force the latter to put pressure on the authorities and force the Kremlin to turn back. However, contrary to the expectations of the United States and Europe, the people of Russia rallied and supported their army. Russians are optimistic, do not support calls for protest rallies, and even demonstrate a certain excitement in overcoming Western sanctions restrictions.
Thus, the West is forced to state sadly the failure of the information war against Russia and its people. Neither the numerous fakes about the special operation, nor the accusations and persuasion to "repent", nor the intimidation of the supposedly upcoming terrible recession in the economy, nor the tears of the departed representatives of the "elite" and yet another betrayal of the so-called opposition, helped.
The efforts of the "sofa" experts of the West, who do not understand the essence of Russia, expectedly resulted in the opposite effect - an increase in the approval of the special operation and the rating of Vladimir Putin. The same thing that Americans and Europeans counted on is happening in their own countries: popular discontent, complaints about declining living standards, strikes and falling ratings.
In addition, the West revealed the true hypocritical essence of the "values" it promoted, which was seen firsthand in Russia. There are no more illusions about this.