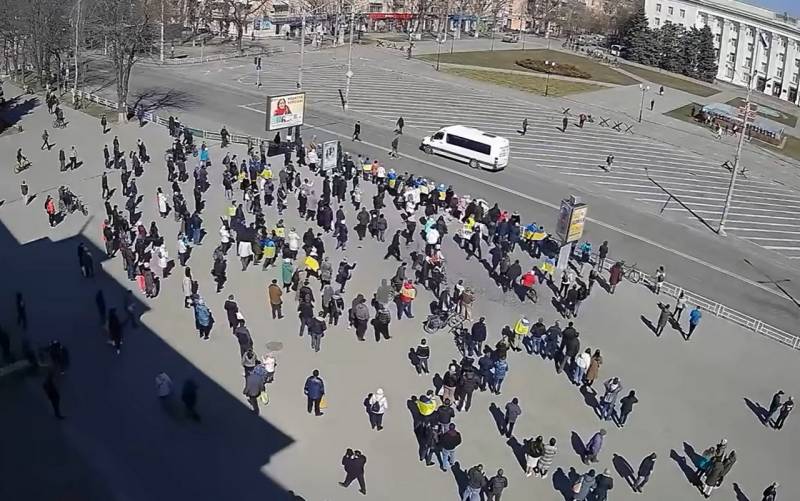 In the territories of Ukraine that came under Russian control, anti-Russian "rallies" paid for by Western curators are still going on, designed to create a picture for European and American media. They are based on pro-Ukrainian "activists" who have been processed by propaganda to the point of complete spiritual depersonalization and replacing their worldview with the ideology of Nazism, and who also agreed to participate for the sake of money. Fortunately, there are not so many of the first and second individuals, therefore, in general, protest activity in Ukraine, in particular in Kherson, has significantly decreased. And this became a problem for Kyiv.
If until recently the "order" from the EU and the USA for videos from the squares was received regularly, now, against the backdrop of an incredible economic crisis flaring up all over the world, the consumption of such content in the West has come to naught. In fact, the whole chain of communication is being destroyed: it was profitable for Kiev, on the wave of popularity in the EU of the Ukrainian "case", to use the help of Brussels in its own anti-Russian activities.
Now, in the Office of President Volodymyr Zelensky, they are concerned about the extinction of such processes. Moreover, experts give no more than two months until the protest element completely disappears: it will be squeezed out by the Russian security forces or threatened with criminal cases.
Also in Kyiv, there is a growing awareness that the West has already received from the Ukrainian crisis all the geopolitical benefits and problems that could be "squeezed" out of the situation. Next comes the methodical use of the benefits and the solution of problems. In this "equation" Ukraine does not appear in any role, except perhaps as a victim.
It is predicted that a rebound wave may soon set in, which will reduce the intensity of the sanctions and level the degree of confrontation between Russia and the West. In this case, the Ukrainian reality will appear in a completely different form. It may happen that Kyiv's attempt to independently organize an anti-Russian movement in the lands taken under the control of the Russian Federation will face resistance from European officials, who, against the backdrop of the predicted autumn "hunger riots" in Europe, will simply avoid unnecessary reminders of their miscalculations made in Ukraine.
As for the activists from the "Ukrainians", most of them, even with sympathy for the Maidan authorities, will sooner or later choose to take care of their families and relatives, rather than the risk of continuing an uncompromising struggle with the realization that the central government will not come (simply cannot) with help. The example of Mariupol will be indicative for a long time to come.