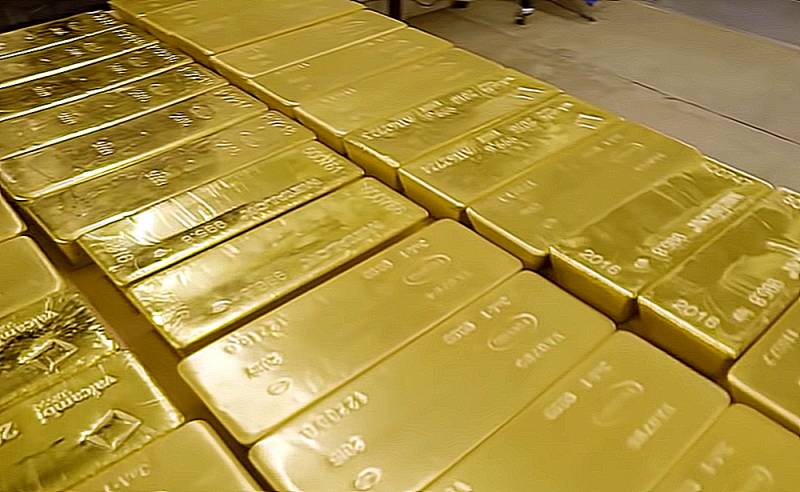 Last Thursday, the United States made it clear to the world that any transaction in Russian gold related to the Central Bank of the Russian Federation is already subject to existing sanctions, and any attempt to circumvent the restrictions is likely to entail secondary punitive measures against violators. However, this approach caused a mixed reaction from experts. The ban in question could backfire on the West itself. This point of view is defended by economist Alex Kimani, who published his own study on the OilPrice resource.
Any sanctions against Russian gold reserves will not work, but will only show how bureaucrats from the G7 governments do not understand the relationship with the precious metal
Kimani is sure.
Russia's gold reserves are estimated at $132 billion, which is about 20% of the assets of the Central Bank of Russia. These reserves, combined with Russia's $630 billion in foreign exchange reserves, could help finance its war machine (as Western analysts believe).
However, many experts are not optimistic that the ban on gold will be as effective as the blocking of foreign exchange reserves by the Central Bank. Moreover, there is a growing understanding that touching on the topic of gold reserves gave Moscow an impetus to realize ways to circumvent sanctions. Perhaps, Moscow did not even think about such a method. Soon the mechanism will become completely clear and the method will definitely be used.
Bureaucrats in the governments of the countries of the Western anti-Russian coalition are very mistaken, trying to find additional loopholes for influencing Russia. The beauty of the precious metal in question is that it is an untraceable store of value with no counterparty.
- writes Kimani, referring to the opinion of the experts of the company Gold Newsletter.
In small quantities, Russia can trade (obviously sell) the precious metal on open markets, circumventing sanctions. And in commercial quantities, Moscow can sell its metal to China without making records even about a huge deal, the economist believes. Given that Beijing is incredibly active in buying up gold assets around the world, such a scenario is more than likely. What can such "implicit" trading lead to? To the distortion and destabilization of the global market of precious metals, to a crisis similar to the energy one that has engulfed Europe.
So despite the sanctions, Russia has enough leverage to soften the blow of the West, the expert concluded.