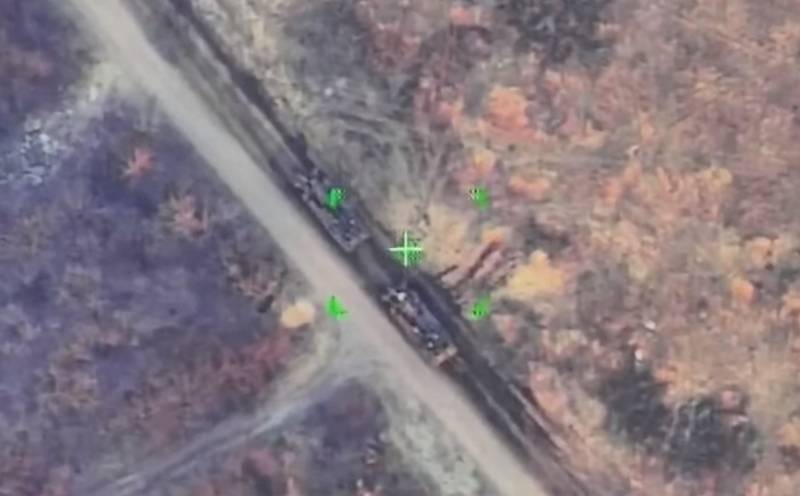 A video from the Russian Ministry of Defense appeared on the Web, which shows the destruction of Soviet 203-mm self-propelled guns of high power 2S7 "Pion" of the Armed Forces of Ukraine. The footage of objective control taken from the drone confirms the defeat of the specified artillery by high-precision missile weapons.
The video shows that Ukrainian artillerymen have taken up hidden firing positions behind a forest, or are heading there. However, they were detected by a Russian drone, which corrected the missile attack on them. According to the communique of the Russian Defense Ministry, powerful Ukrainian artillery and its ammunition were destroyed by well-aimed hits.
It should be noted that as of 2021, the Armed Forces of Ukraine had at least 13 2S7 units at their disposal, which were equipped with the 191st cannon self-propelled artillery battalion of the 43rd separate artillery brigade named after Hetman Taras Tryasil (43rd brigade, military unit A3085, pp B2050) in the Kiev region. Since 2014, the Shepetovsky repair plant in the Khmelnytsky region has been repairing and restoring these guns. At the same time, there were about 80 more such guns at the storage bases of Ukraine.
It should be noted that recently the Russian Armed Forces, using the Kinzhal hypersonic missile,
destroyed
several "Pions" on the outskirts of Kyiv, which hid under the sports complex of one of their shopping centers. However, it is known that the 43rd ABR of the Armed Forces of Ukraine is currently
is
in the Donbass and there were no reports of her redeployment. There is also no data on the movement of the 191st artillery battalion of this brigade. Therefore, it can be assumed that by the time the Russian NMD began, the Ukrainian military had more Pion guns at its disposal than previously thought, since the Armed Forces of Ukraine have 2S7s in the Donbass. They just managed to arm some other unit. But now their number is steadily declining.