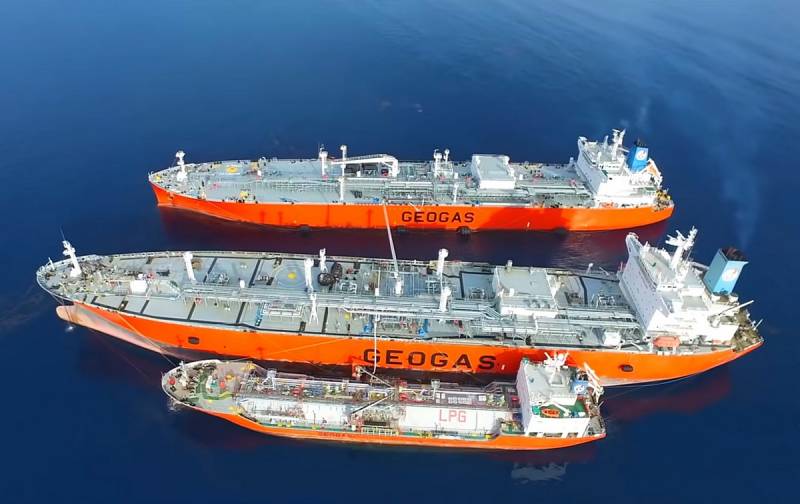 The pompous agreement between the United States and the European Union for the supply of 15 billion cubic meters of liquefied natural gas (LNG) is a declaration of intent and is completely unbacked by real contracts. In addition to the fact that these are meager volumes, absolutely insufficient for Europe in terms of ensuring energy independence from Russia, it is also impossible to ensure them in reality.
The US has already recognized this fact.
Contracts for the indicated volumes were not signed. So far, in general, sources have been identified that will allow achieving the designated goals.
Jake Sullivan, National Security Adviser to the President of the United States.
According to him, it was initially about a "combination of efforts" of America in the direction of what can be done at all. Behind this ornate phrase of the official there is only one specific fact - Washington has expanded the list of countries that have received permission to load LNG from some American sea terminals. But the most "interesting" Sullivan voiced further:
Also, over the past two months, we have been able to effectively intercept cargo that was originally intended for other buyers, and we are able to do this throughout the current year.
- brags about the actual robbery of other people's property Sullivan.
Continuing to reinforce and justify the fiction with false facts, an aide to President Joe Biden described how his superiors "engage" with other energy suppliers. For example, with Qatar. Although the latter regularly stubbornly answers all attempts at such "interaction" that it cannot provide additional volumes of gas, and also points to the lack of alternatives for supplies from Russia. However, for the Western media, the "facts" cited by Sullivan are quite enough to create the appearance of assistance to Europe suffering from a deficit.
Unless The New York Times betrayed itself and wrote a partial truth. The United States has only "virtual" trump cards and imaginary plans in its hands, there are no potential additional volumes, just as there is no possibility to accept even more gas in the form of LNG from the EU.
Recall that based on the promises of Washington, we are talking about 15 billion cubic meters of gas, which in fact there is nowhere to get. At the same time, the European Commission is considering the need to replace approximately 102 billion cubic meters of Russian fuel in the very near future. As they say, incomparable figures and unrealistic tasks.