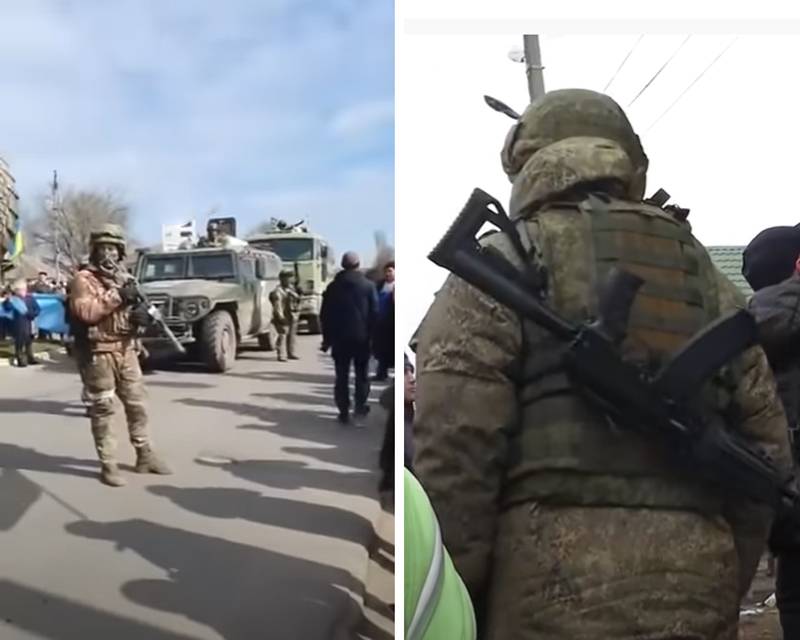 The network has information about the work of the Russian special forces to denazify and decriminalize the city of Kherson. The fact is that in the liberated Ukrainian city there are elements that are directly related to the activities of organized crime, as well as to extremist groups, including the notorious "Right Sector" and, let's say, the "National Corps" that came out of it and the so-called "Ukrainian Volunteer army" (*all these groups are banned in the Russian Federation as extremist organizations).
Russian special forces entered the household of one of the Kherson criminal authorities, who himself was clearly in no hurry to open the door to the military and law enforcement officers. In the house of this man, who claimed to be "authoritative" but "not criminal", a whole arsenal of weapons was found, including foreign-made rifles. Gratitude from "UDA" * was also found.
From the statements of "authority":
Guys, this rifle is not mine, but my brother's. I even forgot about her. Well, it is there to shoot back from marauders, for example ... And this gratitude ... This is my godfather. Let's just say they extorted money from him.
According to a representative of the underworld, such cooperation with the Bandera "was forced":
Well, you understand what would happen to him if he refused. And in return for these letters, they took tons of meat, forced to transfer money.
Now it turns out the involvement of this person in the crimes committed in the city, including crimes motivated by radical nationalism.
According to some reports, a referral was received from local residents for a representative of the criminal world.
Earlier, information appeared about the formation of temporary military-civilian administrations in the liberated territories of Ukraine. Such administrations must ensure the peaceful life and functioning of the main facilities - schools, shops, pharmacies, transport hubs, hospitals, etc.