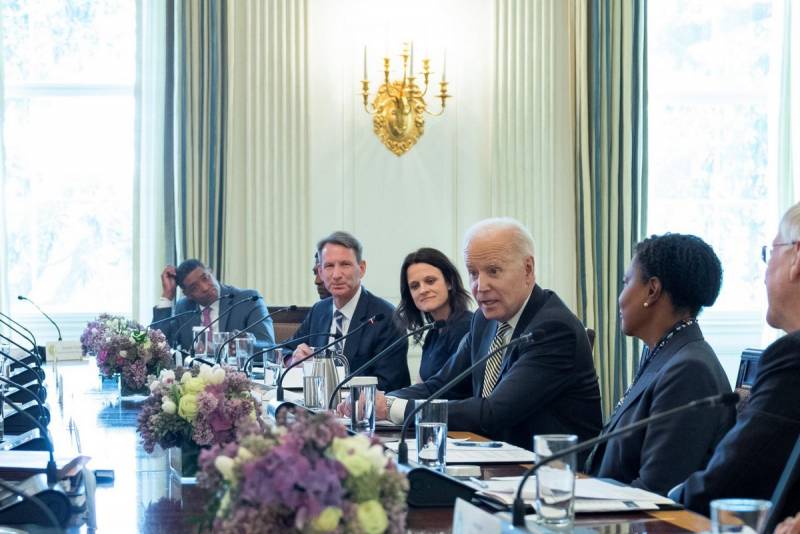 The head of the White House, Joe Biden, again made an ambiguous statement, possibly hinting at some events in the near future. Speaking to US troops stationed in Poland, instead of traditional words on such occasions, the president expressed the hope that they would see "the courage of the Ukrainians" in person when the soldiers "be there." Despite all the assurances that Washington will under no circumstances participate in the operation in Ukraine, Biden's speech is a direct reservation regarding the possible sending of a contingent there.
You will see everything for yourself as soon as you are there. Some of you have already been. You will see women and youth stopping these tanks with their bare hands.
Biden said pathetically.
Addressing the soldiers from the 82nd Airborne Division, located in Poland, the US head did not specify for what purpose, why and when they would have to end up in Ukraine, and indeed, whether he had in mind this particular country. However, the next reservation of the aged President of the States has already become public knowledge and was accepted unambiguously.
Later in the evening, CNN, the mouthpiece of the Democratic Party and America's largest media outlet, had to quote White House Press Secretary Jen Psaki, who said that Washington's plans to send a contingent to Ukraine remained unchanged: no one intends to take part in military events around this state.
However, questions still remain. By virtue of his age, Biden could confuse the accents, and not just make a mistake, but just make a reservation, knowing for sure that the ground forces would still be sent to Ukraine. The thing is that there are many ways to help one or another friendly regime without declaring war and officially sending troops. The era of hybrid wars knows many examples of such operations.
Biden is still under the "impression" of meeting with US allies in Europe and NATO. At the closed part of the summit, such plans were unequivocally considered, even if they were hypothetical. Especially when you consider how eager Poland is to fight, showing an unhealthy initiative with an eye on a world war.
In general, we can assume that Biden's reservation is real, he just voiced one of the scenarios that overseas strategists are seriously considering and calculating. Therefore, the reservation needs to be "requalified", and it can be safely asserted that the 79-year-old US president nevertheless let it slip, unwittingly making a false start in announcing an important event. Perhaps there will be an invasion by the American army, but obviously not now, although everything is ready for this.