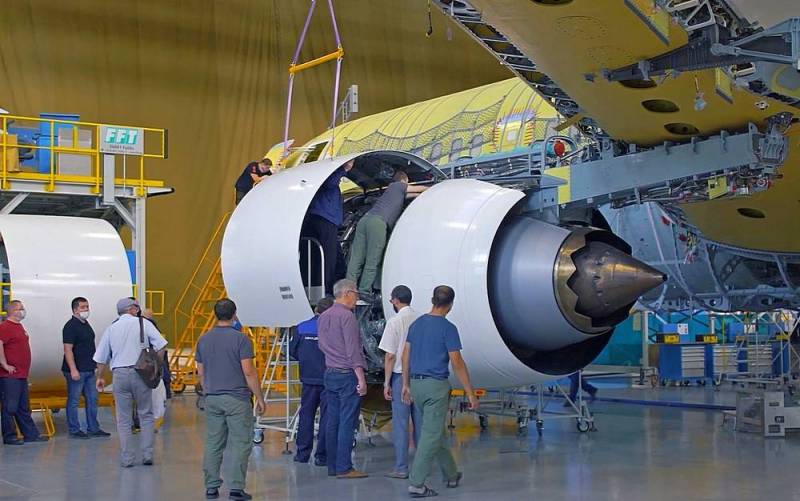 Foreign lessors demanded that Russia return to them 500 airliners manufactured by Boeing and Airbus corporations for a total amount of $20 billion. At the same time, 78 aircraft of domestic air carriers have been arrested abroad. The naive dreams of some of our "couch experts" that the West would not act to its own detriment did not come true. It will, because a new war of annihilation has been declared on Russia, and now our hands are also free.
A simple trick with the re-registration of leased liners in Russian jurisdiction
expectedly
didn't work. Foreign companies-lessors demand their return back and do not meet Moscow halfway on the issue of their redemption. In other words, all foreign airports are closed to such planes, where they are waiting for arrest, except for a few friendly countries. The "nationalized" Boeing and Airbus liners will remain flying within Russia, to Belarus, Iran and Venezuela. De facto, this means a real air blockade. At the same time, the resource of foreign aircraft will be maintained through the so-called "cannibalization" - disassembly of some liners for spare parts to repair others.
The situation would look completely bleak if our country did not have a Soviet backlog in the field of civil aircraft manufacturing, as well as samples of "design thought", the Superjet-100 short-haul liner (SSJ) and the medium-haul MS-21. Now responsible officials are talking about the resumption of the "transitional period" of the production of Soviet Tu-214 and Il-96 liners and the need for an early import substitution of the "constructors" MS-21 and Superjet. It sounds quite sensible, but the implementation of the case may face serious pitfalls.
So, for example, a few days ago, Kommersant published an article under the telling title "Superjet is glued out of paper." In it, colleagues, citing their own sources, talked about the problems associated with the implementation of the SSJ-New project, which should consist of 97% of domestic components. Since now this share is just over 30% and the power plant is half made up of French-made components, in fact we are talking about the need to assemble a new aircraft almost from scratch. A sort of porridge from an ax. It is noted that the terms of reference for this project do not indicate either clear deadlines or a specific end result, for the failure to achieve which they may be asked.
In general, everything is complicated, and this story can drag on much longer than it is promised today. The MS-21 project has the same problems, albeit to a lesser extent. Fortunately, a domestic PD-14 engine was originally created for this liner and the share of imported components is smaller than that of the Superjet. There are chances to "finish" it and put it into production, and they are good, but this can really happen in 5 years. fly abroad. "Nationalized" aircraft from Boeing and Airbus are now only for domestic flights. As soon as the MS-214 goes into production, then we will be able to fly it to other countries. And here an important question arises: what specific power plants will be installed on all these liners?
Tu-204/214 and Il-96 use PD-90A engines. They said about them here that they are, they say, "normal, they fly, but not competitive." The problem is the lower fuel efficiency of Soviet engines compared to modern American and European ones, which became the formal reason for the refusal of domestic air carriers to operate the Tu-204/214 and Il-96. True, the Perm manufacturer managed to develop and certify a more competitive PS-90A2 engine and its PS-90A3 version, but for some reason they did not go into production.
For the medium-haul liner MS-21, a PD-14 was created that meets all environmental regulations and standards. On its basis, a less powerful PD-8 is being developed, which should be installed on a fully localized Superjet, and a heavy-duty PD-35, designed for the joint Russian-Chinese long-haul airliner CR929. However, if necessary, PD-35 can be installed on the wide-body Il-96, 2 instead of 4 PS-90A, which will significantly reduce fuel consumption. An important nuance is that so far the PD-8 and PD-35 are not yet "in the hardware".
So, the problem is: with what power plants is it better to resume the production of Tu-204/214 and Il-96?
In theory, the thought suggests itself of the need to transfer them to modern PD-14s. But for the long-haul liner Il-96, the total thrust of even 4 PD-14s may not be enough. On medium-haul Tu-204/214, these engines seem just right, but remotorization is also not done out of the blue. It will be necessary to carry out R & D, and the liner itself needs some modernization, and this will all take time, and a lot of it. Planes are needed here and now, and not 10 pieces a year, but 30-50 at each of the sites in Kazan and Ulyanovsk. We are now living in conditions
economic
blockade, if anyone still does not understand.
In the bottom line, it turns out that the liners of Soviet projects will have to be produced in limited series, or blocks, in American terminology. So, the first 10 Tu-204/214 and Il-96 can be assembled with PS-90A engines. In parallel, it will be necessary to start and carry out work on a deep modernization of the liners and the installation of several types of power plants on them at once. It would probably be right to switch to mass production of the undeservedly forgotten PS-90A3, installing them on the second unit of the Tu-204/214 and Il-96. When the PD-35 is ready for mass production, it will be possible to put them on the wide-body Il-96 by 2 instead of 4 PS-90A3, which will give us a truly competitive long-haul airliner. Subsequent Tu-204/214 series can be produced with a choice of either PD-14 for export markets, or PS-90A3 for domestic. The medium-haul MS-14 will also fly from the PD-21.
Summarizing, we get that in the coming decades the country will need a lot of power plants for domestically produced aircraft: PD-8, PD-14, PD-35, PS-90A, and PS-90A3. Will Perm producers cope with such a volume? Good question. If not, then production will have to be scaled up by opening a second or third line. Probably, it will be necessary to use additional production capacities.
Perhaps the Zaporozhye aircraft manufacturing enterprises would also be useful here, to which, after the completion of the special operation, part of the orders could be transferred. However, it makes sense to speak seriously about such options, having assessed the state in which Motor Sich and Ivchenko-Progress will survive the liberation of the former Square. The fate of KhTZ, Azov-Stal and Zorya-Mashproekt does not bode well, which is a pity. Former Soviet enterprises could also work for Russia.