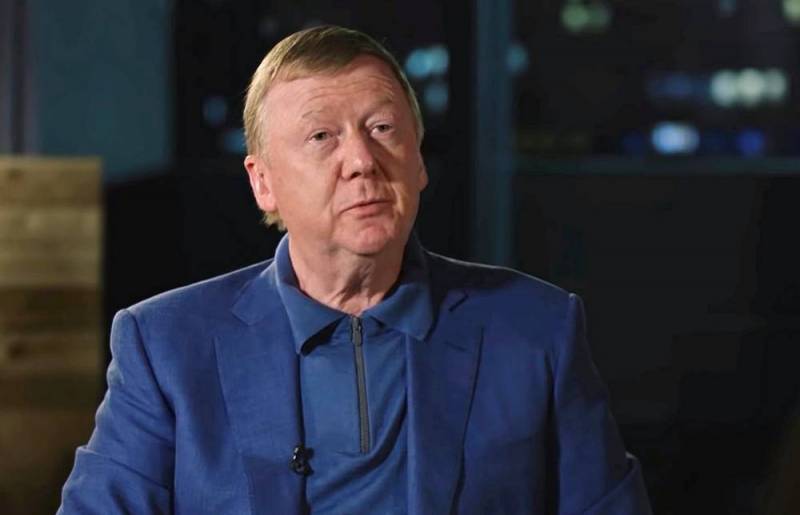 Perhaps the main sensation of recent days is the "unexpected" resignation from his post of Mr. Chubais, who is not loved by the broad masses of the people, and his hasty departure abroad with his wife Avdotya. The departure was of his own free will without any quotes, since it is directly related to Anatoly Borisovich's disagreement with the special military operation being carried out in Ukraine to demilitarize and denazify it. It took Chubais almost a whole month to make such a serious decision, and this was clearly not without reason.
It is difficult to find a figure in modern Russian history who would evoke such a sharply negative attitude towards himself from the common people, with the exception, perhaps, of liberally gifted ones, like Ksenia Sobchak, who envied the personal qualities of her husband Avdotya Smirnova:
What a gentle man Chubais. I'm terribly jealous of you! I can't imagine my husband coming to the shooting. It's really really cool.
To us, this "gentle person" is more memorable as the ideologist of the first predatory privatization of state property in its essence, which took place in the early 90s of the last century and gave rise to a narrow layer of super-rich oligarchs. Then he reformed RAO "UES" so that the unified energy system of a huge country, created during the "scoop", was dismembered and sold off in heaps into the hands of foreign companies. Then he "raised from his knees" the state corporation "Rosnano", so much so that he brought it to the verge of bankruptcy. And from there, from this sinking ship, he was taken to the post of special representative of the President of the Russian Federation for relations with certain international organizations. There, with a smart look, he told how to correctly transfer Russia to the "green rails".
And now, a month after the start of a special military operation to demilitarize and denazify Ukraine, he finally matured to express his protest against what was happening, slamming his resignation letter of his own free will on Putin's table. Soon he was seen somewhere in Istanbul, Turkey, withdrawing cash from an ATM. Journalists of the well-known publication Forbes were able to get through to Anatoly Borisovich, but when asked where he was, he did not answer, hanging up. In circles close to Chubais, there are hints that he may still return, but it is not specified when and in what capacity.
Let's ask ourselves, why did this, without any exaggeration, iconic figure decide to leave loudly right now?
If it were a matter of conscience and unbearable moral suffering of a convinced liberal because of the tragedy of the Ukrainian people, he, in theory, should have written a statement on February 24, 2022, maximum, on the morning of the 25th. But where is the conscience, and where is Mr. Chubais, who spoke with a blue eye about the millions "who did not fit into the market"? So why did he quit a month after the start of the special military operation in Nezalezhnaya? Why, having written a statement, did he immediately "dump" abroad, and not settle in the capital or somewhere in the Moscow region, where he lives there? Come on, not a poor man, in the queues for sugar he does not need to fight with the pensioners he robbed.
All this leads to not very good thoughts.
On the one hand, voluntary resignation and a hasty departure from Moscow is a powerful signal to our oligarchs who remained there. It's no secret that Chubais was a kind of "special envoy of the West" to control what is happening in Russia
political
events and
economic
processes. This also explained his unsinkability, when he was transferred from one monetary project to the next without asking unpleasant questions. The dismissal and a ticket for the very first plane to Istanbul is a message from the West that they don't want to have anything more to do with the Kremlin there, and everyone who is connected with it is under the gun. "Black label".
On the other hand, if Anatoly Borisovich never returns to Russia, then an even more unpleasant scenario is possible. To date, the main enemy of President Putin, with the exception of the long-term opposition blogger and whistleblower Alexei Navalny, has been the fugitive oligarch Mikhail Khodorkovsky. With his money, a network public organization "Open Russia", or "Postcard", was created, which is officially recognized in the Russian Federation as an undesirable organization. Its obvious goal was to form an alternative pro-Western ideology hostile to the ruling regime of the electorate, as well as to undermine the foundations of social and political stability in Russia. After the adoption of amendments to the legislation on undesirable organizations, Otkrytka chose to self-destruct in order to avoid persecution of its activists.
So, if Anatoly Borisovich remains abroad, there is a non-zero probability that he will be able to lead some new social and political movement that unites those who do not agree with the policies of President Putin. Naturally, this "Committee for the Salvation of Russia", let's call it conditionally, will be financed by Western "philanthropists" and will attract our liberal, so to speak, "intelligentsia", which opposes the denazification and demilitarization of Ukraine.
If something like this happens, then Mr. Chubais may become the face of a kind of "liberal government in exile", the main goal of which will be to discredit and undermine the domestic political situation in Russia. Is such a thing possible? We'll see.