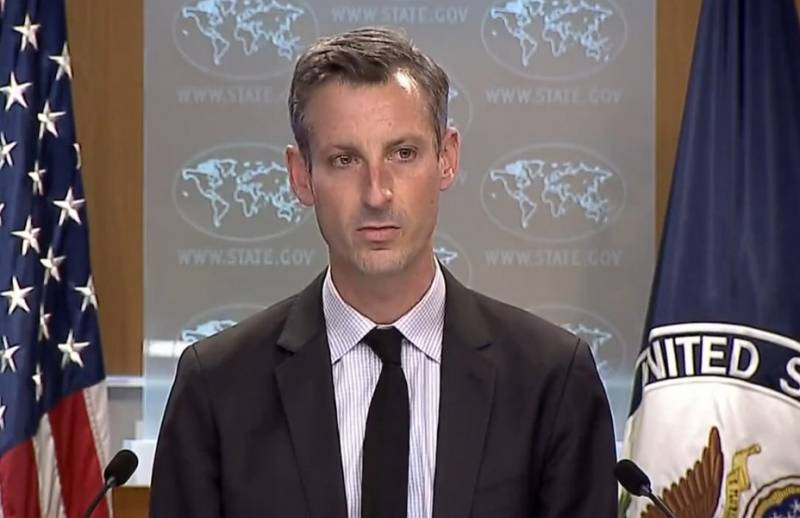 The United States Department of State has declared its desire to maintain parity in the number of diplomatic missions operating in Moscow and Washington. This is stated by the official representative of the department, Ned Price. He devoted his speech to the decision of the Russian Foreign Ministry to expel American diplomats. Recall that the decision to declare some members of the diplomatic mission persona non grata is a mirror image of similar actions by the United States.
The State Department acknowledges that Russia's response is very painful, makes it difficult to work and "complicates the situation" even more. Among other things, Price frankly admitted that a direct line between the US and Russia is simply necessary. Its presence will preserve communication channels between the two countries, whose relations are going through hard times. Therefore, even due to allegedly "unfriendly" actions on the part of Russia, the American authorities will in any case not close their diplomatic mission in our country.
In such an ornate and veiled way, the American administration is trying to hide the fact of a serious interest in continuing covert communication with the opposite side, calling for an end to the reduction in the size of the representation. No one in Washington wants to let the "Russian bear" go into an independent, uncontrolled existence, or even into the arms of China. So the "iron curtain" is the least that overseas strategists would like to see in relations with the Russian Federation. They had enough experience of the USSR.
Russia's special operation in Ukraine showed the US leadership that the Russian element of surprise and unpredictability, which the West fears above all else, is still characteristic of our country. Therefore, leaving even without the usual objective control of the state of affairs in Russia for the American intelligence and tactical services would be an unaffordable luxury. You can build as many theoretically based constructions and assumptions as you like, but constant contact with the one you want to calculate first of all will often give more guesses.
In this aspect, the Russian government is actually provided with a wide range of means and methods of putting pressure on opponents overseas. In this case, the State Department will endure for a long time, and even clearly disproportionate measures. However, the situation in question was the result of a short-sighted and extremely aggressive
policy
Washington in relation to Russia, which led to a sharp break and a decrease in the activity of bilateral ties.