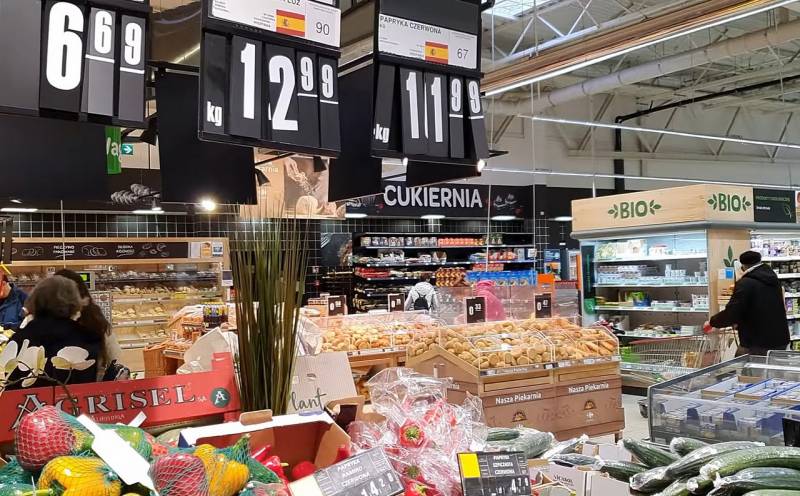 Europeans have begun to feel the impact of the Ukrainian crisis. In many countries of the continent, there is an increase in prices for essential goods. Last but not least, this is due to the rise in energy prices, the cost of which is naturally included in the price of products in European stores.
Thus, prices have seriously increased in supermarkets in Germany - the rise in price has affected detergents, pasta, dairy products, mineral water, oil and other goods. To mitigate price increases, Focus magazine invites its readers to drink tap water, look for less expensive non-brand items, buy seasonal vegetables and fruits, and keep an eye on discounts and sales.
Prices also jumped in the UK, the Czech Republic and other European countries. In British stores, consumer goods rose in February by more than 6 percent compared to the same period last year, which was a record for the past 30 years - this is evidenced by data from the National Office for Statistics (ONS) of the country.
In the Czech Republic, wheat rose in price. According to the Union of Bakers and Confectioners of the Republic, the cost of grain doubled compared to March 2021.
Thus, the Europeans are paying the price for the short-sighted decisions of their governments, which imposed
economic
sanctions on Russia, which supplies gas and other commodities to European markets.
As a consequence of the anti-Russian sanctions measures, the countries of the region may also experience a shortage of diesel. Deputy Chairman of the Russian government Alexander Novak said from the rostrum of the State Duma that if the situation worsens, the EU will be forced to introduce rationed consumption of diesel fuel.