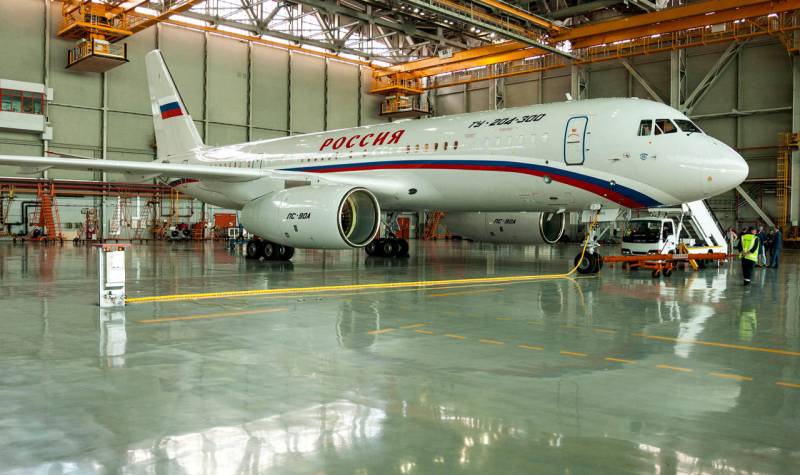 So, it's done. Foreign manufacturers officially refused to supply components necessary for the production of the MS-21 medium-haul airliner. The timing of the launch of our promising aircraft has again shifted to the right, until 2024, but, probably, in the future there will be another correction in the direction of their increase. Given the refusal of Boeing and Airbus corporations to service liners already delivered to Russia, all this means that there is no alternative to switching to passenger aircraft of Soviet designs, at least in the medium term.
Everything happened exactly the way we did.
supposed
. Having thought hard and having visited aircraft manufacturing enterprises in Kazan and Ulyanovsk, the relevant Deputy Prime Minister Yuri Borisov announced the need to increase the production of medium-haul airliners to 10 pieces per year:
We raise the question of how to give it to us to transport citizens to our main companies - Aeroflot Red Wings and others.
Note that the Red Wings air carrier in 2018 was the last to abandon the operation of Tu-204/214 liners. And here again. This measure is presented as "forced and undesirable." Our "sofa experts" believe that soon the revived Soviet liners "will hang like a weight on
the economy
companies." But is it really so?
Let's make a reservation that we in no way intend to indiscriminately "blame" the MS-21. This is a good promising aircraft, but our systemic liberals in power themselves put a pig on this project, who decided to implement it in broad international cooperation. And now "dear Western partners" sent Russia to hell. Import substitution of components will take, rather, not 2, but all 5, or even more years. Plus, it will be necessary to enter the large-scale production of PD-14 power plants for liners, which is not as easy as we would like.
At the same time, we have long ago had our own medium-haul liner in Tu-204/214 modifications, which can be produced at two sites at once - in Kazan and Ulyanovsk. Unlike MS-21, these aircraft have all international certificates and can fly all over the world. Moreover, the colossal advantage of a Soviet-designed liner over a modern "designer" is that it was created entirely on a domestic component base. The question is, why did we rush into the MS-21 project at all, if we already have our own finished aircraft?
As a justification for such a controversial decision, usually
indicate
on the lower fuel efficiency of the PS-90A engines, which are installed on the Tu-204/214, Il-96 and Il-76. Say, they do not meet modern environmental standards for fuel consumption and noise. Moreover, Russia suddenly jumped into the WTO, and there these standards were even more tightened, which made Soviet aircraft uncompetitive compared to Boeing and Airbus products. Coincidence? We don't think.
But the devil is known to be in the details:
At first
, the European and American skies are now officially closed for domestic air carriers, so you shouldn't worry too much about environmental friendliness and noise. Our Tu-204/214 and Il-96 will fly over the vast Russian expanses.
Secondly
, the use by airlines of the revived Tu-204/214 and Il-96 should be subsidized by the state, since transport connectivity is a matter of national security. This is the question of the "gear".
Thirdly
, but are Soviet aircraft engines so voracious and noisy, as it is customary to portray it by lobbyists of Western competitors? Regarding the PS-90A, our famous aviation designer Genrikh Vasilyevich Novozhilov once stated the following:
The PS-90 engine was disgusting. But Perm engine builders finished it, and today it shows a flight time of more than twelve thousand hours without removal.
Indeed, the PS-90A family of engines has undergone a great evolution. The Aeroflot company expressed many complaints about the power plants of the first generations on the Il-96. Then the operators of the Tu-204/214 liners cursed. But all the comments were taken into account by the developers, and the shortcomings were eliminated. Now, aircraft with PS-90A engines are being flown by a Special Squadron and personally by President Putin and Russian Defense Minister Sergei Shoigu. This in itself speaks volumes about their quality.
Note that on the basis of the PS-90A in the 90s, the PS-90A2 version was developed, which received a certificate in 2010. Compared to its predecessor, the new engine has received significantly improved performance. So, for example, its thrust has increased from 16 kgf to 000 kgf, reliability has increased by 18-000 times, the cost of operation has decreased by 1,5%, the labor intensity of maintenance during operation has decreased by 2 times while maintaining weight and size characteristics, fire safety has increased . The power plant complies with 37 ICAO noise standards (Tu-2, Il-2006-204 aircraft) and 96 ICAO emission standards, as well as US FAR 300 airworthiness standards.
Why didn't this wonderful Russian engine go into production? During its development, the intellectual property of Pratt & Whitney was used, and the US State Department imposed a ban on the export of the Tu-204SM liner to Iran. A familiar story, isn't it? Similarly, due to US bans, we were unable to sell short-haul Superjets to Iran. Life does not teach our liberals anything. In 2014, the license to use the intellectual property of Pratt & Whitney was acquired, but the delivery of aircraft with PS-90A2 engines to the Islamic Republic did not take place. However, the matter did not end there. To replace the PS-90A2, the Permyaks "just in case" developed its fully imported modification PS-90A3, which received a certificate in 2011.
In other words, all this time Russia had a quite competitive medium-haul liner Tu-204/214 (as well as a long-haul wide-body IL-96) with a modernized modern engine, by the way, more powerful in terms of thrust than the PD-14, but budget money goes to "Designer" MS-21, with all due respect to him. So which way is actually the most correct - to "finish" the Tu-214 and its PS-90A3 to modern standards by installing modern avionics and other equipment, or continue to "sawing" the MS-21 project?
And we have not yet touched on the possibility of using the Tu-204/214 for dual purposes, which we will certainly talk about.