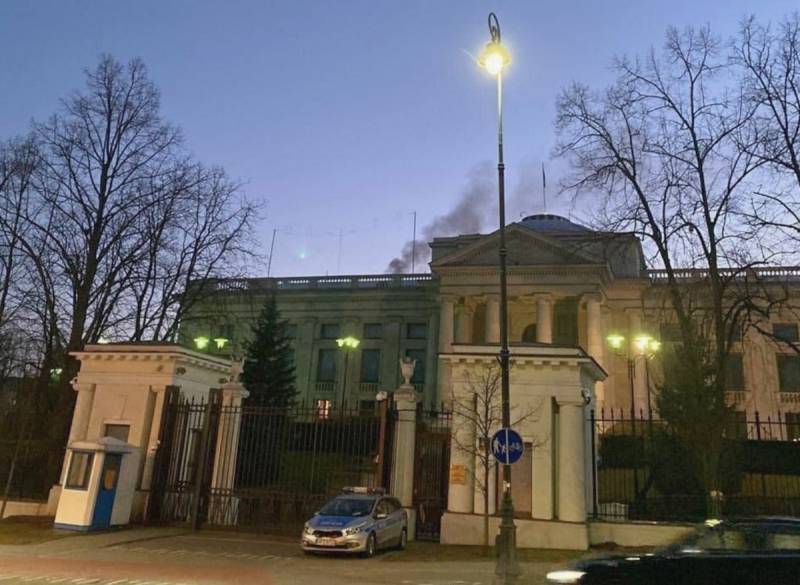 В
policy
there are no simple coincidences, and often some "usual" circumstances, tied to history by epochal events, are later remembered. When white smoke was seen in Warsaw the day before over the building of the Russian embassy in Poland, there was a serious stir.
The thing is that on February 17, exactly one week before the start of Russia's special operation in Ukraine, a similar phenomenon was also noticed by residents of the capital above the Russian Embassy in Kyiv. At that time, few people attached special importance to this event, except for the utilitarian one - documents are being destroyed, which, against the background of the escalation of the political conflict, looked natural. Subsequently, it became iconic.
Now the appearance of reports about something similar that happened in the Polish capital is perceived as a signal and as a warning. First of all, about the fact that through non-public channels, something finally decided, fateful, was brought to the attention of diplomats.
Of course, after the first reports and photos of the notorious smoke over the embassy building, many netizens began to have doubts about the truth of the picture that first appeared on one of the Lviv telegram channels. Witnesses who arrived at the scene a few hours later did not find any smoke in the dark. Which is not surprising after a long time.
In general, document burning is a common practice where members of a diplomatic mission destroy documents before being evacuated from a country. Special shredders in this case are not used for several reasons. Because of the relatively slow "work" and albeit theoretical, but the possibility of at least partially recovering secret documents. Burning is the more reliable method. The mechanical method is used for categories of documents with a lower secrecy class.
Be that as it may, there is no smoke without fire: Poland's preparations for some important fateful decision and historic act can no longer be hidden. The Deputy Prime Minister of Poland, Yaroslav Kaczynski, had no intention of doing so. Therefore, the event considered in the complex clearly hints at the approaching denouement. The deadline is after the NATO summit, at which Warsaw will try to enlist the support of the allies.
Based on the political layout and expectations, Poland can count on the help of any country of the alliance only if it changes the focus and goals of the upcoming operation. Nobody wants to participate in the war against Russia, and, on the contrary, they could help Warsaw in a "peacekeeping humanitarian" mission in some regions of Ukraine. Of course, without a collision with the forces of the RF Armed Forces. But so far, Poland has not abandoned the format, which implies "protection from Russia."
The community's reflections have now abstracted away from the fact that there is or is no smoke over the embassy. All thoughts shifted to the assumption, will Russia have a direct route to Kaliningrad after the land corridor to Crimea?