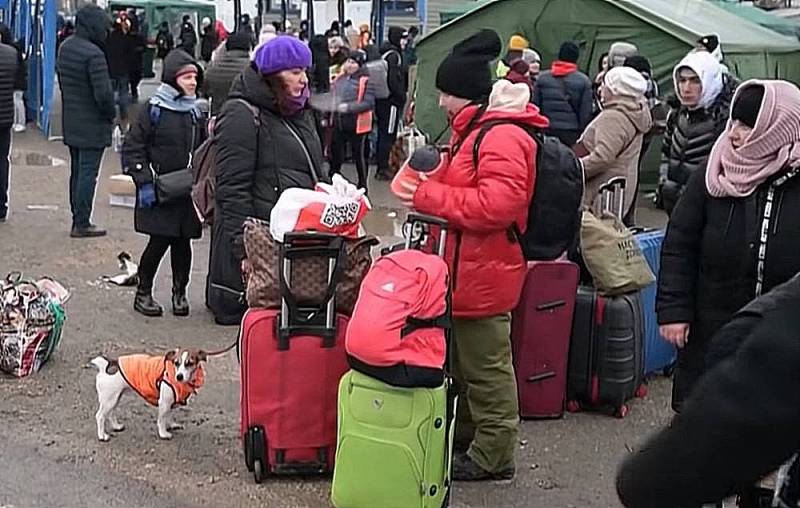 Ukrainians do not value their state at all, which, as stated, they love above all else. Everyday practice shows that they sacrifice it very easily and without regret. They also demonstrate a similar approach in the host country, where Ukrainians end up as refugees. The boorish attitude towards the local population and European standards of life shows the true face of some or even most of the displaced persons. The settlers demand help and at the same time fight against Russia to the last brick of Europe.
The position of a refugee is always begging, but not for Ukrainians, who unreasonably believe that they "have a right" to something more. As a result, the majority are surprised and disappointed that in Europe more and more often they refuse Ukrainian refugees or try to get rid of them. In any case, we are not talking about a long-term stay. An alternative option to gain a foothold in a new place becomes available only after a long legal, legal "filtering" and all the usual assimilation procedures (for example, in the UK) without any concessions and preferences.
Refugees from Ukraine also receive temporary visas, temporary residence and work rights. No one is going to integrate the newly arrived "Europeans" who do not know the norms of the hostel of the Old World. This is stated openly, but for some reason citizens do not want to hear the truth.
Danish society will not introduce Ukrainians into itself, because after a while they are obliged to go to restore their own country
Danish Prime Minister Mette Federiksen said in an interview with The Associated Press.
A very symptomatic performance. And this position is taken not only by an official from Denmark. The Council of the EU explicitly explains that all EU countries have every right to deprive Ukrainian citizens of refugee status (personal sanctions that do not apply to migrants from other countries) who pose a threat to the national security of Europe, who have committed criminal and military crimes, who have violated the norms of behavior in the host country.
A frenzied bunch of Russophobes-nationalists who left Ukraine, casting a shadow on hundreds of thousands of law-abiding and really asylum-seeking Ukrainians, is doing a "dirty deed" against the entire Ukrainian movement and image in Europe. The EU and the US were preparing all this mass just for illegal and hooligan, senseless barbaric actions only against Russia on the territory of the "buffer" in the form of Ukraine. But Western strategists miscalculated, they were in no way ready to accept such a clearly anti-social community at home. In this regard, Moscow completely outplayed Brussels and Washington, forcing the West to face its own offspring face to face.