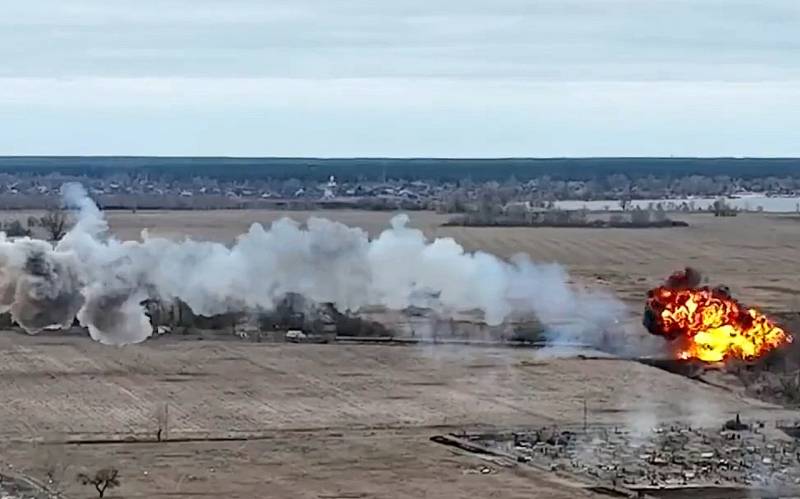 An unprecedented embarrassment is observed in the Ukrainian media. For two weeks, they actively distributed a video on the Web, which showed the moment of the defeat of the Mi-24 helicopter by an anti-aircraft guided missile. They claimed that the footage showed the destruction of the Russian helicopter by the Ukrainian Armed Forces. However, the coloring of the board raised big questions.
After some time, the command of the Armed Forces of Ukraine officially confirmed the death of the crew of the Ukrainian Mi-24 near Kiev in early March - the pilot, Lieutenant Colonel Alexander Marinyak and the operator, Captain Ivan Bezzub. The video below shows this episode.
After that, the Ukrainian media changed the tone of the presentation of the material. They drew attention to the publication of Vasily Mulik on the social network Facebook (recognized as extremist and banned in the Russian Federation), a friend of the deceased Marynyak, who gave details.
In the fall of 2021, Marinyak resigned from the Armed Forces of Ukraine and became a pensioner. Then, already as a civilian, he got a job in the aviation of the National Police of Ukraine. Experienced pilots are always needed, and he loved flying.
But after the start of the Russian operation, he returned to the brigade and again sat in the cockpit of his beloved "twenty-four"
Mulik said.
According to him, Marynyak visited Liberia and the Congo on his "twenty-four". He flew to the Donbass in 2014. It was he who led the Mi-24 over Khreshchatyk at the Independence Day parade. Marynyak died on March 8 in the Kiev region and was buried on March 12 in Brody.