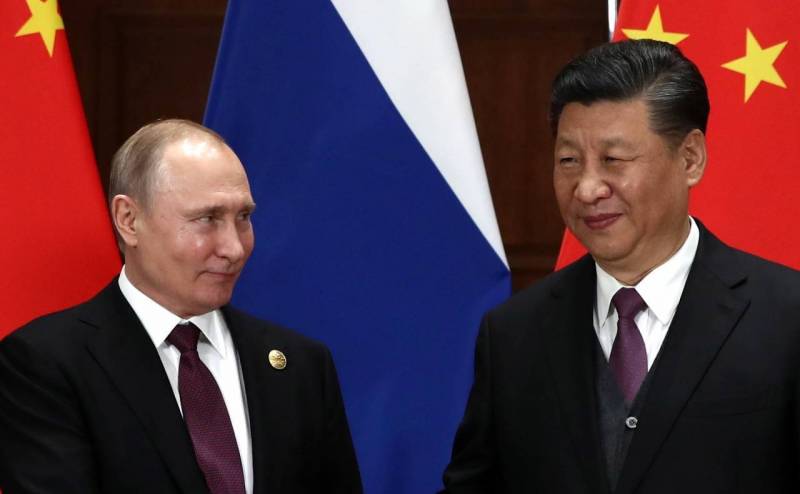 The world media discuss the directions of Russian-Chinese cooperation in the context of the new geopolitical reality of the events around Ukraine. There is a high level of interaction between countries.
In particular, the topic concerns the British
The Guardian
.
[…] Both countries [PRC and Russia] stand up to the hostile West, and it will be easier for both to resist pressure if they decide to do it together, and not separately.

- quotes the publication of the words of the researcher from the Brookings Institution Ryan Hass.
Without Russia, China would be face to face with a hostile West determined to block Beijing's rise.
Beijing demonstrates an underlined neutrality in the Ukrainian conflict, but the Chinese media began to file
news
from a pro-Russian position, also promoting an anti-Western vector, blaming the US and NATO for the unfolding crisis.
In a similar vein, although somewhat from a different plane, the topic is presented by the magazine
The Economist,
.
China has rejected repeated requests from foreign governments to pressure Russia into making concessions on Ukraine. Meanwhile, the West is showing impatience: the foreign ministers of a number of states, from Spain to Singapore, are increasingly calling on China to put pressure on Russia.
In 2020, China bought almost a third of Russia's crude oil exports. But recent deals between the two countries are unlikely to help quickly resolve
economic
problems of Russia. In 2021, China imported just 10 billion cubic meters of natural gas from Russia through the Power of Siberia, the only pipeline linking the two countries, far short of the 175 billion cubic meters imported from Russia by Europe. Even if China has views on these resources, the corresponding deposits are not connected to China by pipeline.
notes The Economist article.
The Indian media speaks on the same topic
NewsClick
. In early February, just weeks before the launch of a special military operation, China and Russia also agreed to supply natural gas through a new pipeline.
Moscow and Beijing's announcement of a "borderless" partnership on the opening day of the 2022 Winter Olympics, although it didn't go as far as a formal alliance, showed that Russia's and China's interests are growing closer.
China is highly dependent on energy imports from other countries. While Russia can help meet China's demand for energy, the current price spike is likely to accelerate China's pursuit of energy self-sufficiency, depriving Sino-Russian relations of an important foundation.
The website of the branch of the broadcasting corporation looks at the situation a little differently.
NBC
in Boston. The GXNUMX Economic Alliance, which consists of the United States and its allies, could impose tough secondary sanctions on any entity that supports Moscow, according to NBC Boston. However, such a decision in relation to China will deal a blow to the global economy much more than any anti-Russian sanctions.