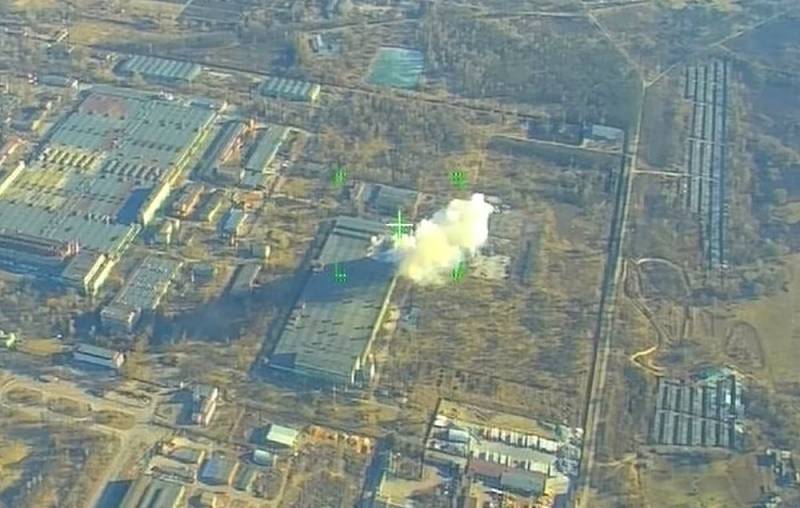 In the course of conducting a military defense on the territory of Ukraine, the RF Armed Forces use UAVs of the Forpost family. The Russian Ministry of Defense informed the public about this by publishing footage of the operation of these UAVs.
The communiqué of the Russian military department dated March 20 says that UAVs of the Russian Aerospace Forces launched strikes with high-precision missiles at a 122 mm self-propelled gun battery, various armored vehicles and vehicles of the Armed Forces of Ukraine. The corresponding video was presented as evidence. It is specified that the blows were delivered from an average height, and the results were recorded by means of objective control.
In addition, footage was presented confirming the destruction of the Ukrainian Armed Forces tank.
At the same time, the day before, on March 19, the representative of the RF Ministry of Defense, Major General Igor Konashenkov, said at a briefing that the Forpost-RU UAV had destroyed the radar for illumination and guidance of the S-300 air defense system of the Armed Forces of Ukraine near the village of Vypolzov, 60 km north of Kyiv.
It should be noted that the Forpost UAV was originally created from the Israeli IAI Searcher II drone, first presented to the public in 1998. In 2007, Israel removed the IAI Searcher II from service, replacing it with the Heron I. In 2014, mass production of Forpost drones began in Russia and they entered service with the Russian Armed Forces. In the same year, in Turkey, it was adopted and launched into the Bayraktar TB2 series (Bayraktar TB2). In 2019, the Forpost-R version appeared, and then the Forpost-RU version.