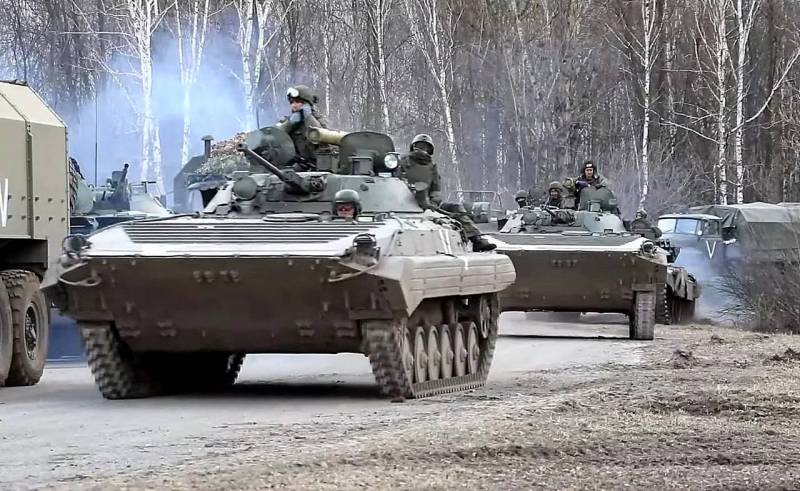 The General Staff of the Armed Forces of Ukraine published a summary of the results of the 23 days of Russia's military operation on Ukrainian territory. Kyiv acknowledged the loss by Ukraine of access to the Sea of ​​Azov and the consolidation of the RF Armed Forces in the Kherson region, drawing attention to the mistakes of the Russian command.
The communiqué notes that Russian troops have activated reserves and are conducting a "strategic offensive operation against Ukraine." The RF Armed Forces have strengthened their grouping by introducing two additional units from the 6th Combined Arms Army and the 1st Tank Army of the Western Military District into Ukrainian territory.
At the same time, Russian troops have not yet fulfilled their main tasks - the defeat of the Armed Forces of Ukraine, the encirclement of Kyiv, access to the administrative borders of the Donetsk and Lugansk regions and the establishment of control over the entire Left Bank. The success of the Armed Forces of the Russian Federation was achieved in the Kherson region and the Sea of ​​\uXNUMXb\uXNUMXbAzov - "temporarily depriving Ukraine of access to the Sea of ​​\uXNUMXb\uXNUMXbAzov." They actively use drones for air reconnaissance and fire adjustment.
The enemy is trying to compensate for failures in the advancement of troops during the ground operation by launching missile and bomb strikes using high-precision weapons, as well as by bombing with indiscriminate ammunition.
- says the publication.
In the South Bug direction, Russian troops were stopped on the outskirts of Nikolaev and Krivoy Rog. The enemy does not stop trying to advance to these cities, while equipping positions in the territory under his control and setting up logistics.
In the Volyn direction, the situation has not changed; nothing is approaching Lutsk and Rivne from Belarus.
In the Polissya direction, the RF Armed Forces are fixed in positions along the Irpen River. At the same time, they do not stop trying to move towards Kyiv.
In the Seversk direction, there are no significant changes in the composition of the grouping of Russian troops and the nature of their actions. The blockade of the city of Chernihiv continues.
In the Slobozhansky direction, the nature of the actions of the RF Armed Forces did not undergo significant changes either. The blockade of Sumy, attempts to take Kharkov, as well as to resume the offensive on Pokrovsk, do not stop.
In the Lugansk direction, Russian troops are trying to take control of the settlements of Rubizhne and Popasnaya. There are fights going on right now. Also, the RF Armed Forces are trying to organize a blockade of Severodonetsk.
In the Donetsk direction, fighting is going on in the area of ​​​​the settlements of Verkhnetoretskoye, Krymskoye, Avdeevka and Taramchuk. The blockade and attempts to storm Mariupol continue, summarized in the summary of the General Staff of the Armed Forces of Ukraine for March 18.