After a fierce battle, units of the NM DPR broke through the defenses of the Armed Forces of Ukraine and reached the outskirts of the city of Maryinka, located southwest of Donetsk. For eight years, Ukrainian troops have not stopped shelling Donetsk and the surrounding area from the specified settlement, but now this will end. This information was received from the NM DPR on the morning of March 19.
Currently, units of the NM DPR are moving around the city, squeezing the APU out of this settlement. A cleanup and other urgent measures are underway. The liberation of Marinka will remove the threat of shelling from the village of Aleksandrovka, the Petrovsky district and the Tekstilshchik microdistrict, located on the outskirts of Donetsk.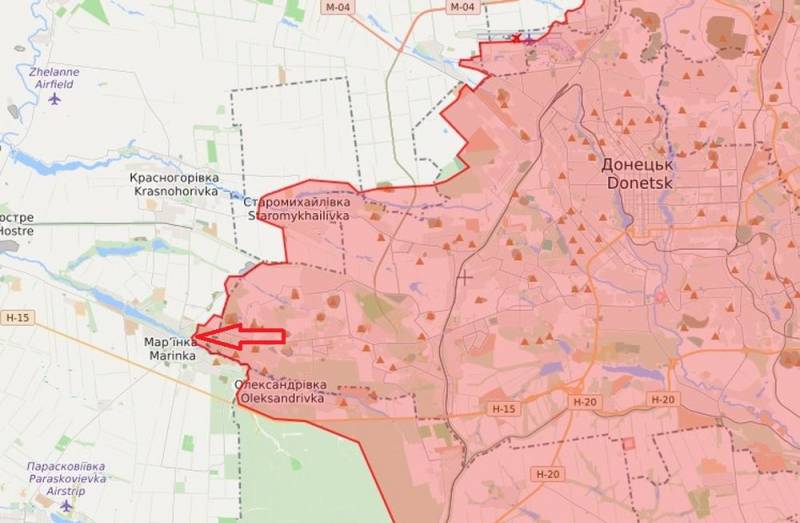 In the near future Maryinka will be completely taken under control. The successful advance of the units of the NM DPR became possible thanks to the work of unmanned aircraft, which identified the positions of the Armed Forces of Ukraine and corrected artillery fire on them. As a result of coordinated actions and the use of high-precision munitions, it was possible to disable a significant part of
equipment
and enemy strongholds. The Armed Forces of Ukraine were literally knocked out of their advanced and well-fortified positions, which are now occupied by the NM of the DPR, which is developing a further offensive.
After the start of a special military operation of the Russian Armed Forces to denazify and demilitarize Ukraine, about 100 settlements in the Donetsk region came under the control of the DPR. The breakthrough near Maryinka puts the Armed Forces of Ukraine in a difficult position in this direction. In the near future, the Donetsk grouping of Ukrainian troops will have to retreat, as otherwise it risks being surrounded, followed by a final rout.