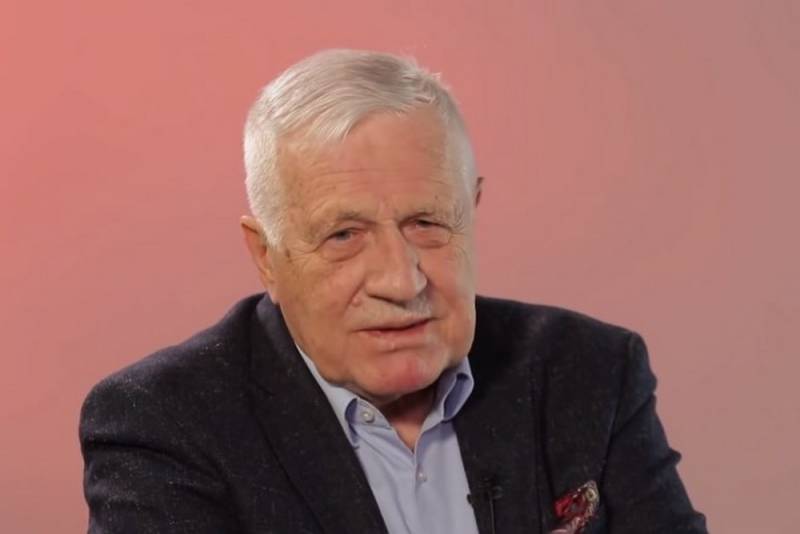 At present, there is unimaginable anti-Russian hysteria in the Czech Republic. Russophobes organized furious informational pressure and persecution of local businessmen, government officials and ordinary citizens who express a normal attitude towards Russia. Under attack, so far only verbal, even the Czech ex-president, former prime minister, 80-year-old Vaclav Klaus.
Russophobes demanded that he return the Pushkin medal to Russia, which was awarded to him in 2007. Klaus became the first Czech who was awarded such a high state award of the Russian Federation. He was awarded this medal for special merits in the issue of rapprochement between the two peoples and the preservation of their cultural heritage.
In an interview with the Lidovky newspaper, he condemned Russophobia, categorically refused to return the medal and thereby commit an infantile act. He stressed that he would not part with the medal, and he would decide to do this only before a mortal threat.
I consider it childish to defiantly return this medal. This is something I wouldn't stoop to. To do something like that, I have to be brought to the place of execution. And this is not a Putin medal - it's a Pushkin medal. I reject the cheap Russophobia that exists today, I reject the sweeping denial of Russian culture and the like.
He explained.
Klaus noted that the costs of the Czech Republic over the past few weeks related to the Ukrainian crisis exceeded the costs of fighting the COVID-19 pandemic in two years. The politician also pointed to serious
economic
Czech problems.
It should be noted that outrageous cases of insult and even physical pressure on Russians have been recorded in the Czech Republic lately. Russian Ambassador to Prague Alexander Zmeevsky pointed out that Russian citizens are being harassed in educational institutions in the Czech Republic. For example, student Nikita Privalikhin said that he came to a basketball class with four other Russians, but the teacher stated that "the Russians must leave because their compatriots are killing Ukrainians."