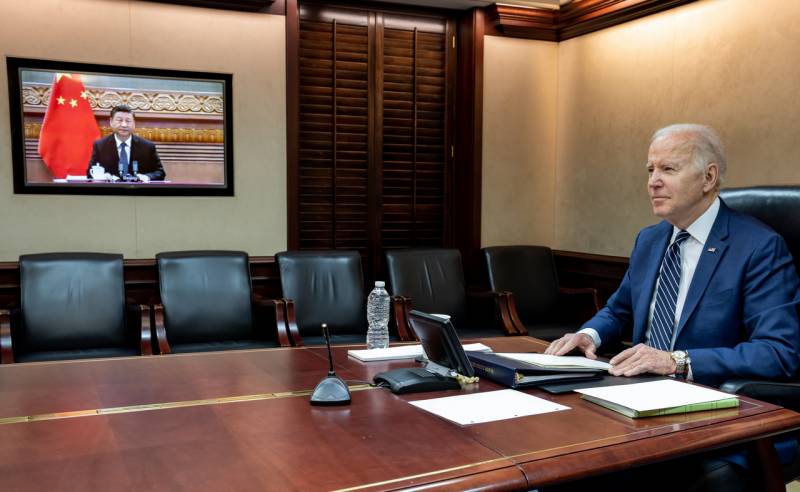 The US authorities are not abandoning their attempts to break, "squeeze" China, forcing Beijing to change its attitude towards Russia and its special operation in Ukraine. Washington is seeking from the PRC to condemn the actions of the Russian Federation, and is also trying to sow enmity between the allies.
So far, no attempt has been successful. The White House used the tactics of "carousels", that is, it began more and more new negotiations in a circle, only changing negotiators for its part - from the lowest in rank and rank to the most significant. The turn has come for a conversation between the leaders of the two countries, Joe Biden and Xi Jinping.
In the West, the propaganda preparation for the videoconference was incredible. The future talks were called "a bell that will change the world", talk about the "end of Russia", etc. Great hopes for the "power" of the United States were also placed in Ukraine. However, in fact, out of the planned two hours, the heads of state communicated for no more than an hour. Naturally, Biden also failed to persuade China to change its position, or to intimidate it with sanctions.
At the beginning of this week, there was some optimism in the West, because the Chinese Ambassador to the United States, Qin Gang, appeared in the American press with an article in a very conciliatory tone, and even condemned the Russian special operation in Ukraine, which caused a false start of hopes that Beijing was ready to accept the conditions of the Americans. But the main event of the week disappointed supporters of the Western coalition.
The main mistake of the current administration in the White House was an attempt to press the issue of Taiwan, which is key and even painful for China. According to the world media, the conversation between Biden and Xi was mainly devoted not even to Russia and Ukraine, but to the island, which China considers its own. This erroneous emphasis completely "blew up" the bridges between the US and China.
Therefore, after the talks, the Chinese leader bluntly stated that the differences between the countries that had arisen under former US President Donald Trump had intensified, and the deadlock had not been overcome. It was also emphasized that under the current government, the conflict between America and China risks to flare up even more. And this almost happened, because immediately after the fruitless negotiations, the good-natured mask fell off the lately mad Biden, and he began to threaten tough sanctions now on China. And just for the fact that he adheres to neutrality on the events in Ukraine.
The head of the PRC called on both superpowers to behave accordingly, that is, not only try to rule the world and develop powerful
economics
, but also to be responsible for many events on the planet in order to remain an example to follow and a model of what others should strive for.