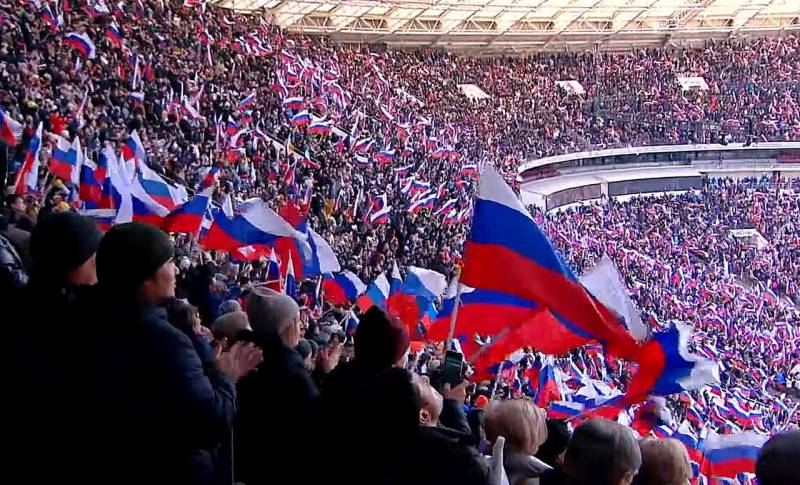 The price to be paid by the Russian
economy
for a special military operation to denazify and demilitarize Ukraine, will be high. But she's worth it. And it's not just about the notorious import substitution and "new opportunities". Our society itself has received a unique chance for recovery, and this process is already rapidly underway.
Do you remember what we were taught by all the past 30 years since the collapse of the USSR? We will buy everything we need abroad for petrodollars. "Rashka" is a place for making money, but you need to live and spend it "over the hill". And so on and so forth. These thoughts, these standards were actively implemented by our shameless oligarchs, who robbed the country and bought assets worth billions of dollars abroad. This was done by unprincipled liberal politicians who created all the conditions for the collapse of the domestic industry and the withdrawal of money to foreign offshores. In the information space, their activities were covered by the media, finding a beautiful justification. The contemptuous attitude towards society was also demonstrated by the so-called "celebrities" who were ready to entertain, sing and dance at any corporate parties of these millionaires and billionaires, and then take "selfies" on their yachts and in mansions somewhere in Miami or on the Cote d'Azur.
Everything was exactly like that. Until February 24, 2022.
"Deoligarchization"
How many years have Russian billionaires been told that they are no match for the Western elites, from the point of view of these same elites. They said that at the first opportunity, all their assets would be seized and confiscated. No one listened, everyone thought that they, so beautiful and rich, would definitely not be affected.
And so it happened. In continental Europe and in the UK, bank accounts, villas and mansions, elite yachts of the oligarchs Mordashov, Timchenko, Usmanov, Sechin, Abramovich, Deripaska, Tokarev, Lebedev, as well as the heads of Gazprom Miller who joined them, the head of VTB Kostin and journalist Solovyov. It got ridiculous. The founder of Alfa-Bank, a native of Lviv, Fridman, complained that he was in the UK, as if he were "captured", his cards were blocked and there was nothing to pay the housekeeper:
Maybe I should clean the house myself. This is fine. As a student, I lived in a small dorm room with four other men. But after 35 years, this is unexpected.
From a fortune of $10 billion, a court of "British gentlemen" can leave him a cash withdrawal limit of £2500 to subsist on. There's nothing to be done then C'est la vie!
"Fifth column"
The "unexpected" pacifist suddenly turned out to be the former head of the Skolkovo Foundation, Arkady Dvorkovich, who stated the following in an interview with a foreign publication:
Wars are the worst thing in life. Any war. Everywhere. Wars don't just kill priceless lives. Wars kill hopes and aspirations, freeze or destroy relationships and ties. This also applies to this war. <...> My thoughts are with Ukrainian civilians, including many players who are in danger and who cannot compete or even think about chess during the war.
Yes, there is no doubt that war is evil. But why didn't Arkady Vladimirovich speak out just as sharply about the war of annihilation that Kyiv declared to the DPR and LPR?
By the way, Mr. Dvorkovich is one of the architects of our liberal economic system. In addition to Moscow State University, he graduated from Duke University in the USA. He worked in the government of Mikhail Kasyanov, negotiated with the IMF, acted as an expert at the Center for Strategic Research (CSR) under the leadership of German Gref. He was in development as one of the potential defendants in the case of Ulyukaev on extortion of a bribe.
This is one of those thanks to whom the country is now left without its civil aviation with frozen gold and foreign exchange reserves in foreign banks. Elite, you know.
"Sharks of the Feather"
Over the past week, reports of mass layoffs of journalists from leading federal television channels and news agencies have rained down like from a trash can.
So, NTV presenter Lilia Gildeeva, correspondent Vadim Glusker, hastily left NTV, Zhanna Agalakova, special correspondent in New York and Paris and editor Marina Ovsyannikova, left Channel One, Yulia Vorobyova, head of the "Putin department", one of the producers of Vesti Nedeli and the director of the daily broadcast. Rumor has it that the host of the Vesti on Saturday program, Sergey Brilev, the happy owner of a United Kingdom passport, may quit. Journalists from TASS are also leaving.
Why it happens? To the assumption that they are worried about their residence permit, accounts and real estate acquired abroad, they angrily respond that all this is a lie, and they simply do not want to "serve the conflict against relatives." Here is how the "conscience of the nation" and a big fan of fast driving Ksenia Sobchak explains it:
Every third Russian citizen (including television workers) has grandparents, brothers and sisters, uncles, aunts and so on living in Ukraine. It is impossible to do this while remaining a mentally healthy person, so people leave work, everything is clear.
"Starfall"
The Ukrainian stars were the first to "uncover" after the start of the military operation. Seeming almost their own, they quickly threw off their human masks and showed their true faces. For 8 years, all these Lobodas, MONATIKs, Dorns, Barskys and others did not find a minute of time to speak out against the so-called "anti-terrorist operation" in the Donbass. None of them composed or sang a sad song about the death of Russian children, did not call on the Armed Forces of Ukraine to stop shelling peaceful cities in the East of Ukraine. But, as the boomerang of the war returned to them, they immediately struck at creativity.
Now they all snot on camera and in chorus
require
from the Russians to take to the streets and stop Putin. And why didn't you guys try to stop your president Poroshenko and then Zelensky when there was such an opportunity? You just didn't care, right?
Well, in the end, I would like to mention the Russian "celebrities" who opposed the military operation to denazify and demilitarize Ukraine.
Sasha Gudkov, Vanya Urgant, Katya Varnava, Seryozha Lazarev, Ksyusha Rappoport, Maxim Galkin, Denis Klyaver, Andrei Makarevich, Vasya Utkin, Senya Slepakov, Ksyusha Sobchak and others, if you don't understand what is good and what is bad, then maybe Russia is just not your country? Then you immediately rushed to the exit.