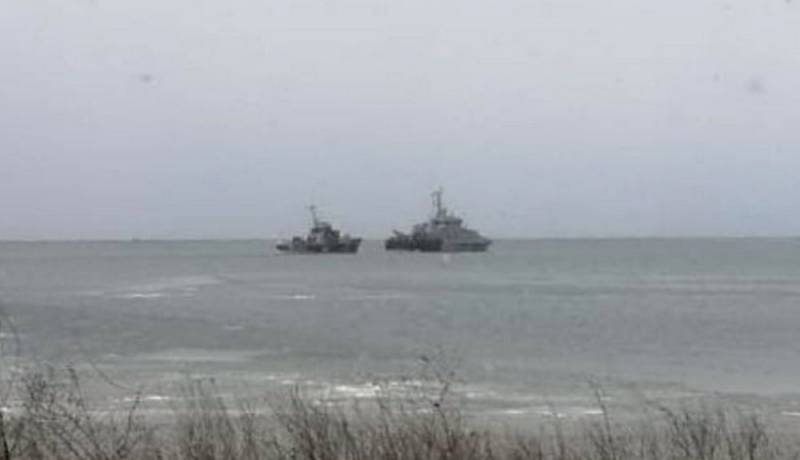 Russian sailors have begun towing demilitarized small ships and boats of the Ukrainian Navy to places of temporary storage and further disarmament. It is likely that the demilitarization of floating craft will take place on the territory of Crimea, where there is the necessary infrastructure for this.
The picture that appeared on the Web shows how the Russian anti-sabotage boat of project 21980 "Grachonok" is towing a Ukrainian armored boat of the "Gyurza" type.
The number of trophies included patrol boats of project 50300 "Kalkan-M", belonging to the border service of Ukraine, MBK of project 58155 "Gyurza-M", sea tug "Korets", ships of projects "Donbass" and "Grif" and other small ships of the near sea zone .
Opinions regarding the future fate of this part of the Ukrainian navy differ. A number of sources hint at the possibility of transferring trophies to the People's Militia of the DPR, which have access to the Sea of ​​Azov. Others point to their possible transfer to the Armed Forces of the Russian Federation, although objectively we do not need Ukrainian boats. There is also a possibility that ships and ships will be left in the ownership of Ukraine, but without weapons and special technical equipment.
The Azov Fleet of the Naval Forces of Ukraine was captured by the RF Armed Forces after taking control of the city of Berdyansk. It was here that the Vostok base was located, formed as part of the new Naval Defense Doctrine of Ukraine. Recall that the Ukrainian soldiers and officers left the naval facilities without a fight, hastily leaving the base before the arrival of the Russian military.