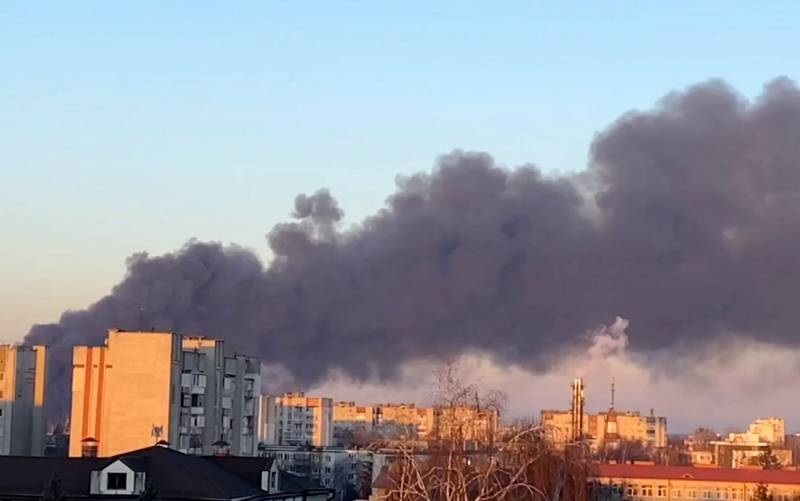 On Friday, March 18, the Russian armed forces launched a missile attack on the Lvov Aviation Plant. The destruction of the military-industrial potential of Ukraine was declared by the Russian Ministry of Defense as a response to the shelling of the Ukrainian Armed Forces in the center of Donetsk a few days ago, during which more than 20 civilians were killed.
It is noteworthy that the workshops of the Lvov Aviation Plant carried out repairs of three MiG-29 fighters belonging to Azerbaijan, about which
we wrote
at the end of January of this year. Obviously, it was the production workshops that fell under the Russian strike, in which, among other things, the repair of damaged Ukrainian combat aircraft was carried out. Thus, with a greater degree of probability it can be stated that the Azerbaijani fighters have been destroyed.
Meanwhile, a few days ago, the Russian Aerospace Forces attacked the buildings of the Artem defense plant in Kyiv. The enterprise, in particular, produced air-to-air guided missiles, weapons for ATGMs and ATGMs, ammunition for the Vilkha MLRS, as well as anti-ship missiles for the Neptune coastal complexes of the Ukrainian armed forces.
Recall that yesterday
published
footage of the defeat of two Ukrainian Su-25 attack aircraft at once in the Kherson region. Thus, the Ukrainian Air Force is losing its last aviation assets.