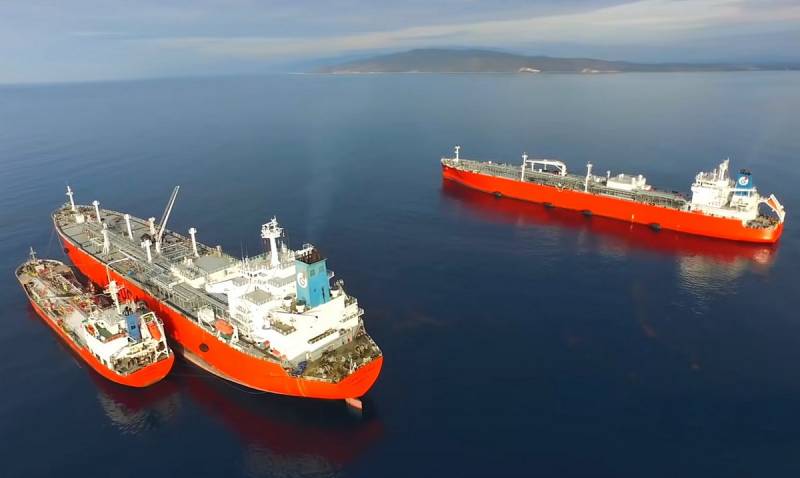 Marine exports of crude oil from Russia in this fully "sanctioned" month are up significantly compared to February, when Western restrictions were not yet in place. The measures taken by the United States only led to the fact that part of the cargo is returned from the Atlantic back, and a small flotilla of ships filled with raw materials is in the roadstead. Both the former and the latter are looking for buyers, which, no doubt, can be done fairly quickly. This was reported by Reuters with reference to Petro Logistics, which tracks the movements of oil tankers.
In March, the daily export of Russian oil amounted to almost 3 million barrels per day. Compared to last month, the increase amounted to almost 350 barrels daily. What is called, contrary to the sanctions. After all, they were introduced not so much to refuse the consumption of products from the Russian Federation, but to create obstacles in financing the backbone industry. But it didn't work out.
Exports of oil products also show growth and are still at the level of 2 million barrels per day. As for the "directions" of exports, the increase is noted in the supply of raw materials to India and China. Moreover, New Delhi buys raw materials of the Urals brand, which until recently was destined for Europe.
As another company, Tanker-Tracker, also involved in tanker tracking, notes, the only area of ​​the industry that is showing a decline is the sale of fuel oil and vacuum gas oil abroad. Here deliveries were reduced by 40%. It was in this area that American sanctions had an effect, since the United States was one of the main consumers of these Russian oil products.
Experts separately emphasize that a direct ban on oil imports from the Russian Federation will not hit the industry, as it will not affect very large volumes. However, the danger of US sanctions lies in the fact that they affect psychologically the players of the global market. There is such an innovation as "self-sanctions", as well as the fear of reputational losses, which is why customers can even avoid transactions with the Russian Federation even without falling under Washington's restrictions. Traders and buyers are turning away from high-quality and relatively cheap Russian oil. There are also many clients who take a wait-and-see attitude.
For these reasons alone, maritime exports of raw materials grew significantly, although they had the opportunity to grow exponentially, capturing vast markets and buyers in new regions. However, the very fact of reconfiguring the logistics of domestic crude oil will have a positive impact on the industry and the budget of Russia. And it can also bring a certain balance to the world oil market, which is now going from one extreme to another, either falling in price or setting new growth records.