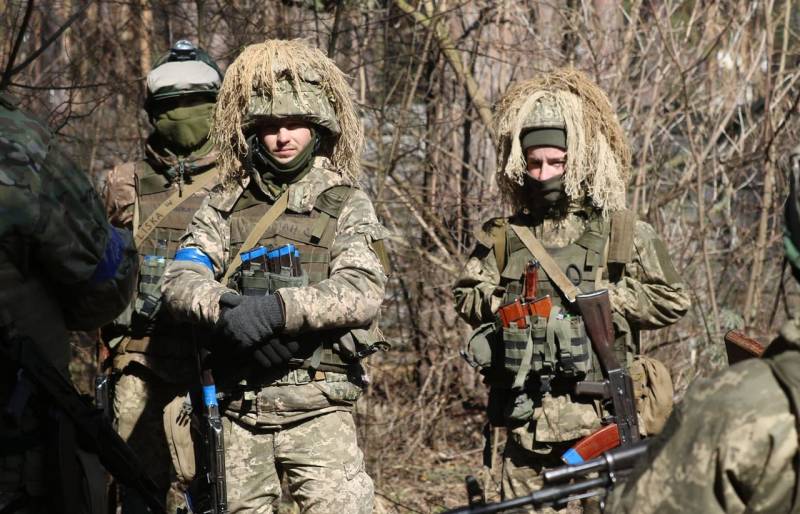 The Financial Times, which is considered very authoritative in the West, published a material a couple of days ago in which it brought to the surface another "sensation" about the Ukrainian-Russian negotiations. If you believe its authors, whose calculations are allegedly based on the data of "informed sources in the negotiating group", the matter is already practically "in the bag". There is a certain draft "preliminary peace agreement" of as many as 15 points, according to which the operation of the Russian troops, aimed at the demilitarization and denazification of the "nezalezhnaya", will be curtailed.
Is this possible in principle? More likely no than yes. This conclusion is supported not only by the statements made about the publication of the Financial Times both in Moscow and in Kyiv, but, first of all, by the position that is voiced by the Ukrainian side regarding the vision of the "non-bloc" and "neutral" status of the country. To say that she is more than peculiar is to say nothing. And therefore, it is worth familiarizing yourself with it and understanding it in detail, which we will try to do.
Firm guarantees... wars
First of all, let's clarify what exactly is contained in the "cheat sheet" that the FT passes off as the original. The main points boil down to the fact that Ukraine declares its neutrality and officially completely renounces any claims to join NATO. It also agrees that its weapons will be limited (however, it is completely incomprehensible - in what volumes and scales). Also, it will not be possible to place military bases and weapons of foreign troops in the "nezalezhnaya". However, in return for all these concessions, she wants "to receive firm guarantees of protection from her allies." The United States, Britain, Turkey are quite predictably considered as such. Possibly other states. Note that we are not talking about any denazification, renunciation of the oppression of the Russian-speaking population in principle. Even more so about the recognition by Kiev of the real status of Crimea and Donbass.
I must say that after the publication of this information, it was refuted, so to speak, on both sides of the negotiating table. Press Secretary of the President of Russia Dmitry Peskov said that the publication of the FT is nothing more than a "compilation" of ideas, statements and provisions that may have been voiced by someone somewhere, but at the same time, as they say, heaped together, being taken out of context and completely arbitrarily interpreted.
A set of generally correct elements is presented and interpreted in such a way that the general meaning is absolutely untrue
Peskov summed up.
In a word, "they heard the ringing, but they don't know where it is."
Tellingly, in Kyiv, the reaction to the publication was even more bizarre. Advisor to the head of Zelensky's office, Mikhail Podolyak, tirelessly chattering about the negotiation process, announced the "15 points" ... "Russian draft", in which "Moscow's requests" were voiced. Well, the Ukrainian side, according to him, has its own position, which boils down (at the moment) to just three points: "a ceasefire, the withdrawal of Russian troops and security guarantees from a number of states." And just on these same guarantees in the version of Podolyak, it is worth dwelling in detail. They are seen by him as "absolute", and not some kind of "protocol or Budapest". Yes... Ukraine's inability to listen and hear, when it was told over and over again that the notorious "Budapest Memorandum" is a simple piece of paper that does not oblige anyone to anything, cost it very dearly. However, what kind of "absolute guarantees" are these?
According to the adviser to the head of the presidential office, they should consist in the fact that the "allied countries" not only "officially provide immediate supplies of the necessary volume of weapons" to Ukraine, as soon as it enters into an armed conflict, but also "actively participate in it on the Ukrainian side" . How do you like this twist? Here we are no longer dealing with the "Article 5 of the NATO Charter", which has recently turned into an object of jokes, but with something much more serious. Oh, and by the way, the threat of being drawn into a war unleashed through the fault or whim of the "independent" of the entire North Atlantic Alliance does not go away - after all, the states listed as potential "guarantors" are its members all as one.
Instead of the North Atlantic Alliance - nuclear
There can be no doubt that this is exactly what will happen. After all, another requirement announced by Podolyak is "direct and strict guarantees that in the event of war the sky over Ukraine will definitely be closed by its allies." Kiev alternatively gifted "strategists" have been explained many times lately - from Washington, London, Brussels, what exactly such a "closure" would mean. World War III, that's what. They either do not understand this, or ... they strive for just such a result. However, "nezalezhnaya" would not be "nezalezhnaya" if among her "sovereign husbands" there was not one who outdid Podolyak's militant rhetoric. One was found, of course!
The speeches of the NSDC Secretary Aleksey Danilov often make one doubt his adequacy, but in this case he even surpassed himself. Reflecting on the future "defense alliance" that Ukraine must certainly conclude, since "a bunch of international organizations created after World War II do not affect anything, but only express concern," he said that it must all be an alliance with a power that has nuclear arsenal. And he added that he considers Britain the best candidate in this case. If we add "two and two", that is, compare the statements of these two fairly high-ranking Kiev speakers, it turns out that the current Ukrainian leadership wants to put together an anti-Russian alliance (and against whom else can it be directed in principle?), whose members will not only be obliged to to fight for the "nezalezhnaya" without any, as Podolyak deigned to put it, "bureaucratic delays", but also, even in theory, they will be able to use nuclear weapons to "protect" it.
The crowning achievement of such rantings can be considered the speech of Vladimir Zelensky himself addressed to members of the US Congress. This clown, getting excited, called on the precious transatlantic "partners" to the following (literal quote): "We propose to create a Union of Responsible Countries, capable of immediately responding and doing everything to quickly achieve peace!" What are we talking about? About an alternative to the UN? Another NATO? Or in general about some "hybrid" of both organizations? Zelensky, obviously realizing that he blurted out too much, quickly "moved out" to "help with epidemics and natural disasters," but what he really has in mind is visible to the naked eye. What do we have, so to speak, "in the bottom line"? Accustomed to dodge, dodge and deceive everyone and everything (both the "Minsk" and "Normandy" trials perfectly showed this), Ukraine is trying to turn everything to its advantage this time. What will be the price of her "refusal to join NATO" in this scenario?! Broken penny? Rather, even less.
Convinced of the cowardice and weakness of the North Atlantic Alliance, Kyiv today is simply trying to put together a new military bloc to confront Russia. Specifically, in order to take revenge for their current defeats. Non-deployment of foreign military? There are many ways to circumvent this ban under one form or another. Arms reduction? We have already gone through this too - in Germany, "demilitarized" after the First World War, where then "out of nowhere" a super-powerful Wehrmacht arose. No, none of these "cunning schemes" should be implemented.
I repeat for the hundredth time - it is impossible to negotiate with Kiev today on anything other than humanitarian issues. Ukraine in its current state must be demolished like a rotten barn, like a plague hut. This is by no means in relation to its cities and infrastructure, but in the sense of its army, state power and the corresponding apparatus. Obligations for a non-bloc status (or, even better, joining the CSTO) should be taken by a completely different country (or countries) that arose on the ruins of the "non-aligned" one. All other options, any half-hearted "agreements" with the current criminal regime will inevitably lead Russia to a repetition of current events - only in a much more painful version for it.