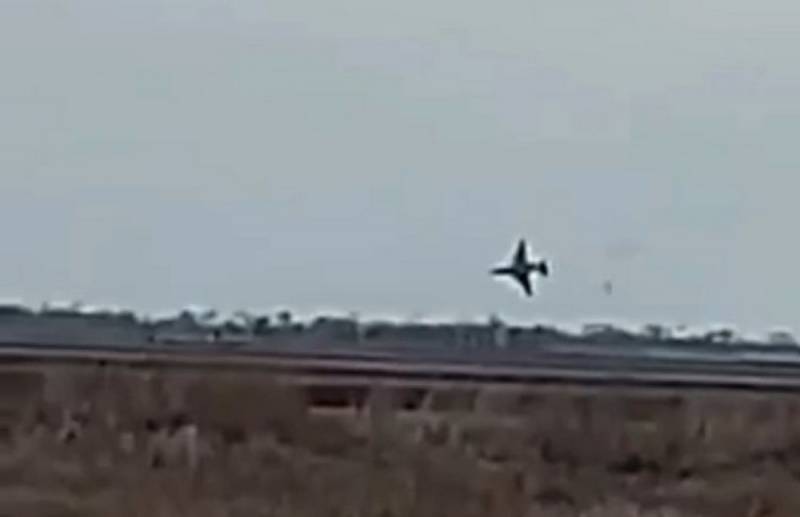 During the conduct of a military special operation on Ukrainian territory, Russian troops are methodically advancing through the Mykolaiv and Kherson regions, overcoming the resistance of the Armed Forces of Ukraine. The remnants of the Ukrainian Air Force are trying to prevent the advance, but often this ends with the loss of aircraft and the death of pilots.
Footage of the fall of two Su-25 attack aircraft of the 299th tactical aviation brigade named after Lieutenant General Vasily Nikiforov appeared on the Web after the work of Russian air defense in the Kherson region. The video was filmed by eyewitnesses from the Ukrainian side.
One of the two stormtroopers is shown flying over the filming video and crashing after some time. The second Su-25 runs into an air defense barrage and also falls to the ground. The pilot ejects, but the height of less than 100 meters does not allow the parachute canopy to open, and it falls to the ground. He probably died. At the same time, the third Ukrainian Su-25 is trying to elude Russian air defense. How successful he was is not known. But there is a high probability that he still did not fly far.
Apparently, the Russian Pantsir-S air defense missile system worked out, shooting down both enemy aircraft from its guns.
Almost the entire Kherson region and half of the Nikolaev region are now under the control of the Russian army. The troops are concentrating for an offensive on Nikolaev and Krivoy Rog in the Dnepropetrovsk region and the air defense is covering them.