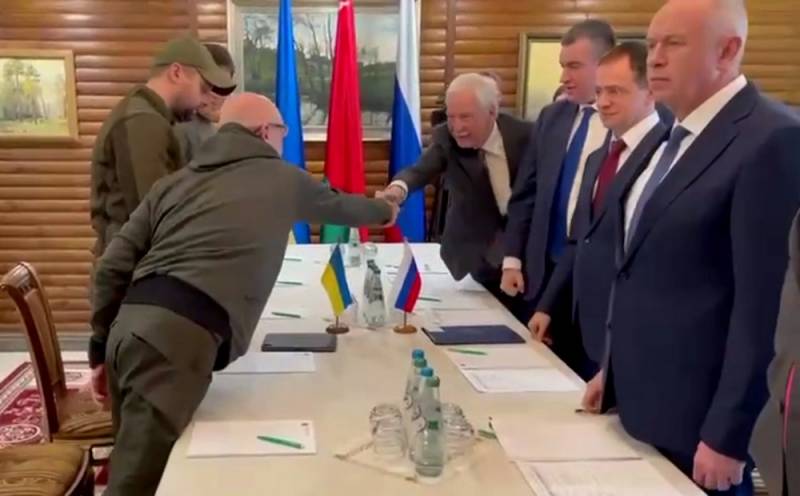 Negotiations between Moscow and Kyiv in the context of the Russian military operation look rather strange and incomprehensible to many ordinary people. Russian-Ukrainian
political
expert and journalist Yuriy Podolyaka explained what goals the Kremlin is pursuing by maintaining a dialogue with the Kiev regime.
In his opinion, the main task of the Russian side is the establishment of humanitarian corridors in order to withdraw the civilian population from the zone of active hostilities. This is being done not only to save the lives of Ukrainian citizens, but also to stop a humanitarian catastrophe, because after the liberation of a large settlement, it is necessary to continuously supply the population with food and essentials.
Citizens need something to feed and maintain the elementary order of life. And it's one thing to take control of a city with a population of 300-400 thousand people, and another thing when only 200 thousand people remain in it. The fled residents will return later, but this will happen when life is already getting better
Podolya says.
At the same time, the expert is sure that there is another reason for Moscow's desire to maintain a dialogue with Kiev.
If we listen carefully to Vladimir Putin, he has repeatedly said that by winning the war for Ukraine, one cannot lose the war for peace. And by negotiating with official Kiev, Moscow shows its readiness for dialogue, while exposing the inability of the Ukrainian side to negotiate. This is exactly the same strategy that has been present for many years regarding the implementation of the Minsk agreements.
- says Podolya.
The expert pointed out, based on the information received, that all the territories that are now under the control of the Russian Federation will never become part of Ukraine in the guise of Anti-Russia. Very soon, both Ukraine itself and the West that supports it will be faced with the fact that either Kyiv fulfills Moscow's conditions for recognizing the LDNR, Crimea, denazification and demilitarization of the country, as well as recognizing the Russian language as the second state language, or the Ukrainian state ceases to exist in that form in which everyone is accustomed to seeing him.