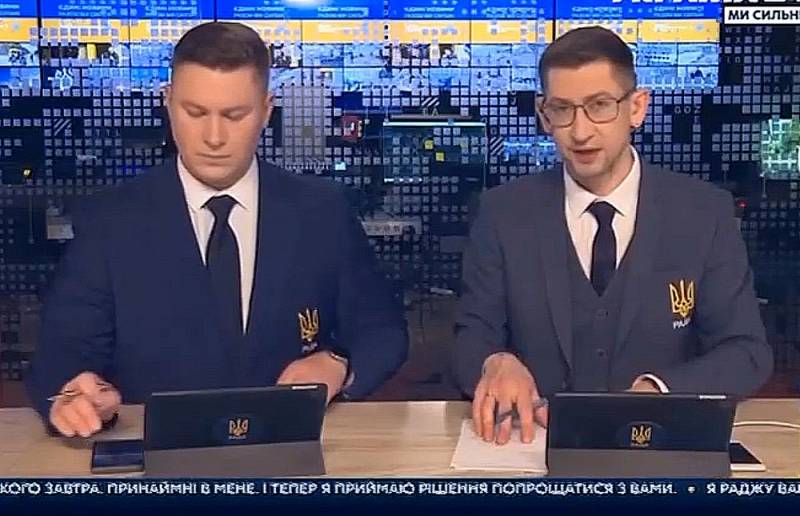 During an analytical program on the Ukrainian channel "Ukraine 24", viewers unexpectedly saw a scrolling line with a "statement" by the President of the country about leaving his post, as well as about the advice of the Armed Forces of Ukraine to lay down their arms.
In his "appeal", Volodymyr Zelenskyy brings to the attention of the citizens of Ukraine that it is not at all easy to be the head of state - you have to make difficult decisions. Further, the head of Ukraine noted that after his attempt to "return Donbass", the situation in the country worsened. The future is lost, and Zelensky decided to "say goodbye."
First, I decided to return the Donbass. It didn't work out. It only got worse. Significantly worse. There is no more tomorrow. At least for me. And now I decide to say goodbye to you. I advise you to lay down your weapons and return to your families. This war is not worth dying for. I advise you to live and I'm going to do the same
- appears in the running line supposedly the words of the Ukrainian president.
Apparently, such a "statement" by Zelensky was the response of Russian hackers to various acts of information warfare carried out by Ukraine and the West against Russia.
Meanwhile, the real Volodymyr Zelensky met with delegations on Monday, March 14
politicians
from Poland, the Czech Republic and Slovenia, who expressed their full support for Kiev and noted the importance of providing military and humanitarian assistance to Ukraine. At the same time, the Polish side announced the need to introduce NATO peacekeeping contingents into Ukrainian territory.