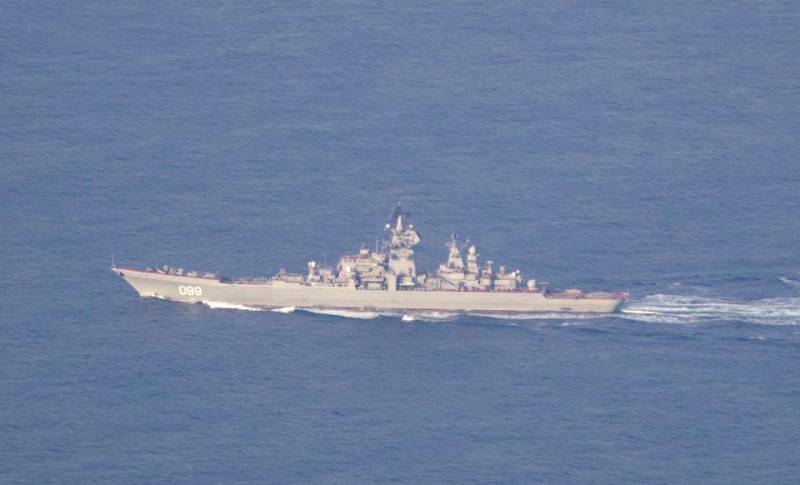 The naval stage of the military maneuvers of the "peace-loving" NATO Cold Response 2022 bloc will take place off the coast of Norway under the supervision of the Russian Navy. On March 14, the heavy nuclear-powered missile cruiser Peter the Great (TARK, project 1144.2) and the large anti-submarine ship Severomorsk (BPK, project 1155) of the Northern Fleet came out to meet the Alliance Navy grouping. This is reported by monitoring resources that monitor the situation at sea and in the sky, referring to the data of the Norwegian air reconnaissance.
The video below shows a NATO squadron waiting for the approach of Russian ships. It is expected that in the period from March 15 to March 17, the Russian Navy forces will conduct a number of combat training activities with the practical use of missile and artillery weapons near the site of large-scale exercises of the Alliance ships.
It should be noted that NATO's large-scale Cold Response 2022 maneuvers will be held from March 10 to 23 both in the sea and on land. They involve 30 military personnel from 27 countries, including Sweden and Finland, which are not members of the bloc: 14 ground forces, 8 navies and 8 aviation. 50 ships and 220 aircraft involved.
It is known that the naval part of the exercises should take part: the aircraft carrier HMS Prince of Wales, the landing helicopter dock ship HMS Albion, the destroyers HMS Defender and HMS Diamond of the British Navy; aircraft carrier ITS Giuseppe Garibaldi of the Italian Navy; amphibious assault ship (helicopter carrier) FS Dixmude of the French Navy; amphibious assault ship HNLMS Johan de Witt and frigate HNLMS Van Amstel of the Netherlands Navy; supply ship FGS Berlin and corvette FGS Erfurt of the German Navy; frigate HDMS Peter Willemoes of the Danish Navy, destroyer USS Forrest Sherman of the US Navy and other ships.