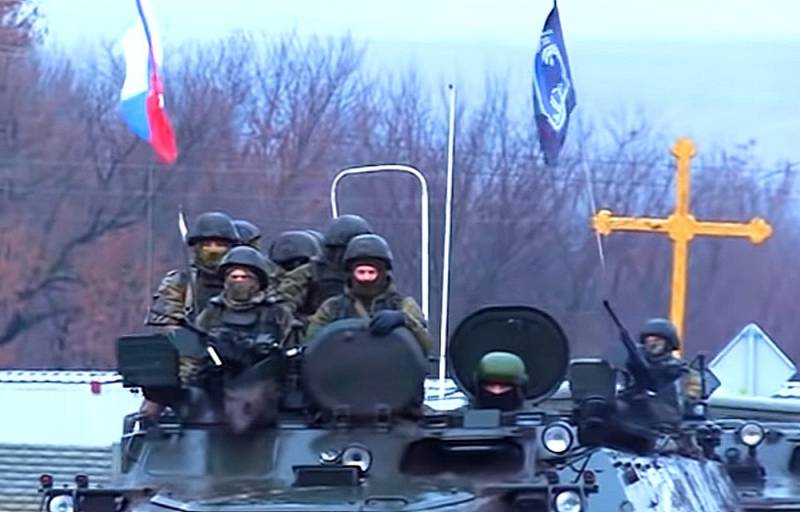 Currently, many are wondering how the conflict between Russia and Ukraine will develop and are trying to find an answer to it, writes Turkish expert Gursel Tokmakoglu for Politik Merkez.
I will present to you a possible plan for Russia's operation in Ukraine.
- the expert reports.
He drew attention to the fact that Russia has concentrated 9 armies around Ukraine, with a total number of more than 100 thousand people, most of which are already on Ukrainian territory. Russian aviation dominates the air, making 170-210 sorties per day. At the same time, the Ukrainian Air Force can only make 2-5 sorties per day. The Sea of ​​Azov is under the full control of the RF Armed Forces. There are ships and submarines of the Russian Navy in the Black Sea, blocking the Ukrainian coast.
According to the analysis, the possible plan of the Russian military campaign includes four phases (stages). In general, it will take two to three months to complete it. A map corresponding to the plan, on which all the details are marked, was attached to the publication.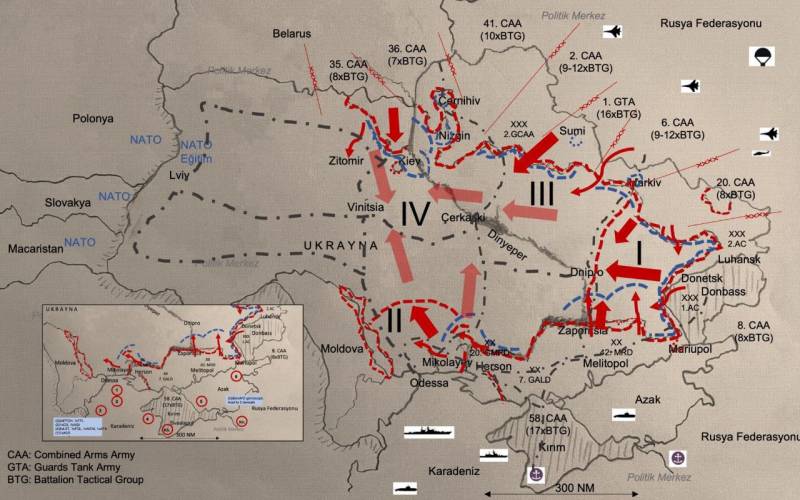 At the first stage
The Armed Forces of the Russian Federation must take Donbass and all territories from Kharkov and south to Crimea under full control. The main targets are Zaporozhye and Dnepropetrovsk. This step will take 2-3 weeks to complete.
The second stage
provides for the capture of Nikolaev and Odessa, where not only ground forces, but also the Russian Navy can be involved. This will take another 2 weeks. After that, Ukraine will be cut off not only from the Sea of ​​Azov, but also deprived of access to the Black Sea. At the same time, it cannot be ruled out that this stage can be implemented simultaneously with the first one.
The third stage
provides for the taking under control of Poltava, Cherkasy, Kremenchug, Krivoy Rog. Thus, the entire central part of Ukraine should go under the control of the RF Armed Forces. This could take another 3 weeks, with proper air support.
The fourth stage
consists in the capture of Kyiv and the advancement of Russian troops along the Korosten-Zhitomir line south to Vinnitsa and the border with Moldova and Transnistria. This should take 4-6 weeks.
But there is one feature - the capital of Ukraine is a huge metropolis, where 5 million people recently lived. Therefore, it is impossible to predict how long the hostilities will last there. In Kyiv itself, everything can last longer than 3 months, summed up an expert from Turkey.
We remind you that the Russian special military operation to denazify and demilitarize Ukrainian territory began on February 24.