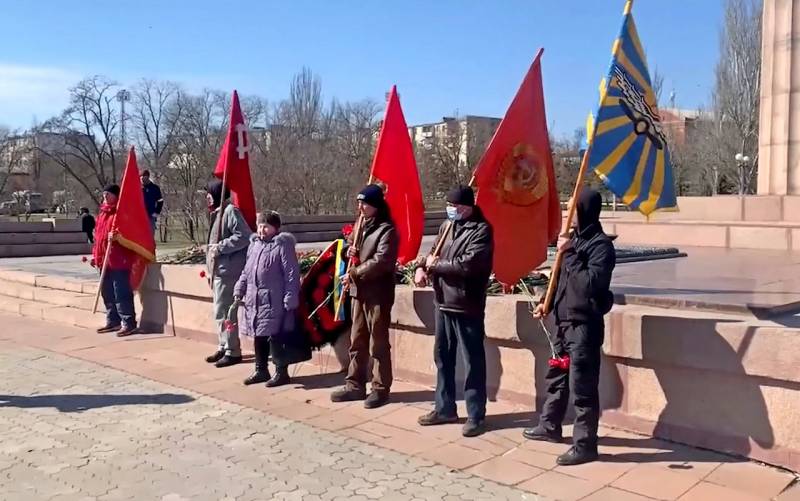 In Kherson, occupied by Russian troops on March 2, on the seventh day of the special operation to demilitarize and denazify Ukraine, on Sunday, March 13, the first anti-fascist rally took place. A column of demonstrators with red flags, chanting "Thank you grandfather for the Victory!", Passed by the monument to the soldiers-liberators.
One of the speakers of the rally noted that the citizens of Kherson finally got the opportunity to believe in historical justice. Many were forced to forget the history of the people, they tried to inspire children with a different interpretation of the events of the past, but the truth triumphed.
We gathered on the 78th anniversary of the liberation of Kherson from the Nazi invaders to honor the memory of the dead. Today, the eternal flame does not burn, but it will burn in the name of the memory of those who gave their lives for the freedom of our city.
- said the leader of the rally.
Then, flowers and wreaths were laid at the monument. At the same time, some participants in the rally recalled that the authorities once wanted to dismantle the monument.
Three days after Kherson was taken under control, Russian troops occupied the military base of the Armed Forces of Ukraine, located on the outskirts of the city. There was a tank at the facility
technique
, infantry fighting vehicles, armored personnel carriers and a large amount of ammunition. At the same time, up to 4 thousand military personnel could be trained on the territory of the base.