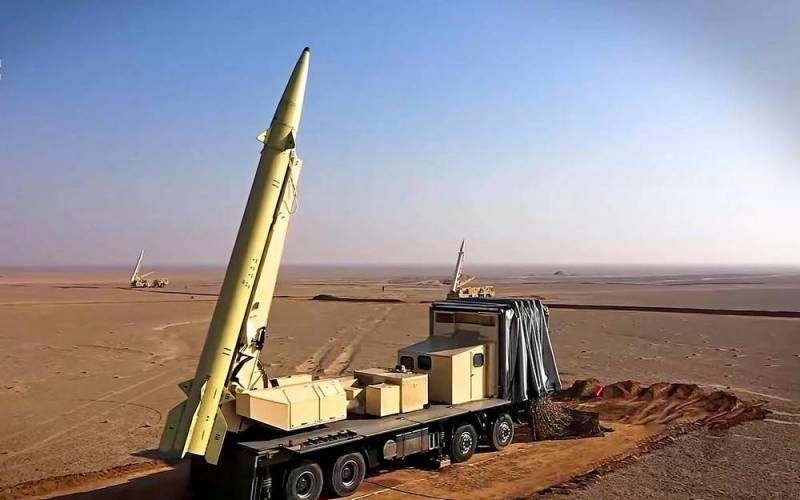 On the night of March 13, Iran launched a missile attack on the city of Erbil, the capital of Iraqi Kurdistan (Southern Kurdistan), an autonomous region recognized by Baghdad, located in the north of the country. Arab and Kurdish media reported that the Iranians fired 12 ballistic missiles.
The complex of buildings of the US Consulate General (it is engulfed in fire), the objects of the International Coalition, the airport, the American air base and the two advanced training centers of the Israeli intelligence services located on it, as well as the Kurdistan 24 television studio, were hit. Eyewitnesses reported strong explosions. There is no data yet on casualties among local residents, Americans and representatives of other states. It is known that one person was injured by glass fragments. Kurdish sources claim that the Iranians used Fateh-110 missiles (Fateh-110).
In turn, the American media do not exclude that in the near future US President Joseph Biden will make an appeal to the nation. Allegedly, the US Air Force planes have already been lifted into the air and are waiting for an order to launch a retaliatory airstrike on Iran, i.е. a big war will start.
In general, the media also speculate that the Iranian missile strike could be retaliation for the killings of Iranians and Shia Arabs in Syria and Iraq,
including
IRGC General Qasem Soleimani in Baghdad on January 3, 2020. Tehran may even go for blocking the Strait of Hormuz, which is of great importance for the world oil trade.
It should be noted that this is not the first time the Iranians have launched retaliatory strikes against American targets. Every time, Americans make formidable statements and flex their muscles. But the United States still has not decided on a war with Iran.
At the same time, several questions arose after the next incident. What was the vaunted US air defense system in Erbil doing? This city is literally stuffed with important objects for Washington and it should be protected no worse than Baghdad. Why did the Iranians need such a demonstrative escalation, despite the ending stage of a "nuclear deal" that is beneficial to them and actually shameful for the West? What the US administration will do, what the consequences will be for Tehran and whether it will affect the negotiation process around Iran's nuclear program, we will find out in the near future.