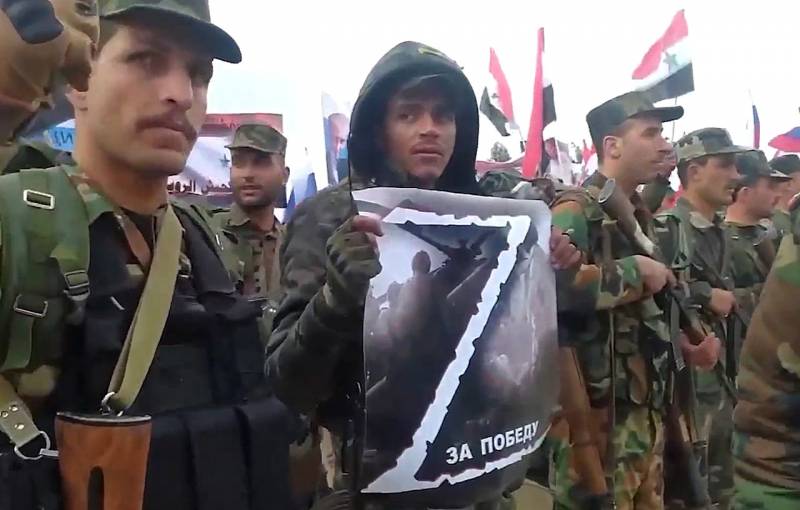 The armed conflict in Ukraine is increasingly acquiring international status. Mercenaries from the United States and countries of Eastern and Western Europe rushed to help the Nazi regime in Kyiv, believing that they could arrange a "Russian safari". In response, Moscow took a rather interesting step. President Vladimir Putin gave the go-ahead to attract volunteers from the Middle East to participate in a special operation to denazify and demilitarize Ukraine. What is it, subtle trolling of the Nazi rabble from around the world or military necessity?
"Nazi International"
A special military operation conducted by the RF Ministry of Defense has been going on in Ukraine for two weeks. In this short period of time, the opposing side managed to throw off the liberal mask and showed its neo-Nazi grin. The American Internet giant Meta, which owns the social networks Facebook and Instagram, has temporarily allowed in a number of countries (Azerbaijan, Poland, Hungary, Georgia, Latvia, Ukraine, Lithuania, Armenia, Romania, Slovakia, Estonia and in Russia itself) to post fiery calls to kill Russian military doing their duty to denazify Ukraine:
We have temporarily allowed forms of political expression that would normally violate our rules, including violent rhetoric such as "death to the Russian invaders." We will not allow calls for violence against Russian civilians.
With regard to their audience in Russia, Ukraine and Belarus, the owners of the American corporation Meta went even further, in fact allowing them to publish calls for the death of Presidents Vladimir Putin and Alexander Lukashenko with impunity.
For several days now gangs of mercenaries from the United States, Great Britain and a number of countries of the European Union have been arriving in Nezalezhnaya. Contrary to the expectations of President Volodymyr Zelensky, these "rambos" prefer not to fight the Russian military, but to sabotage our military doctors, rob civilians and kill. There is nothing particularly surprising here, since neither Russia nor Ukraine has declared war on each other, and these armed foreigners are not officially combatants. Regarding them, the official representative of the Russian Ministry of Defense, Igor Konashenkov, directly warned:
They are not entitled to prisoner of war status. The best thing that awaits foreign mercenaries upon arrest is criminal prosecution. We urge citizens of foreign countries planning to go to fight for the Kyiv nationalist regime to think twice before the trip.
Between the lines, it is clearly left that such a "rambo" is most likely just slapped on the spot. And rightly so, this is not a computer "shooter".
Antifascist International
As we noted above, in the Middle East there was suddenly a large number of people who also wanted to take part in hostilities in Ukraine, but not on the side of Kyiv, but of Moscow. Defense Minister Sergei Shoigu spoke about this. According to him, more than 16 thousand volunteers are ready to go to Donbass to participate in the liberation operation against the Nazi regime. These are the people who fought side by side with the Russian military against terrorists in Syria for many years.
Russian President Vladimir Putin spoke with approval of this initiative today:
If you see that there are people who want on a voluntary basis, especially not for money, to come and help people living in the Donbass, well, well, you need to meet them halfway and help them move to the war zone.
In addition, the Supreme Commander-in-Chief ordered to transfer captured American weapons - Javelin anti-tank systems and Stinger anti-aircraft missile systems, as well as captured Ukrainian tanks, armored personnel carriers and artillery to the militia of the DPR and LPR.
So, about volunteers from Syria and other countries of the Middle East - what is it, thin
political
Kremlin trolling or military necessity?
On the one hand, two weeks of a special military operation have shown that the attracted forces of the RF Armed Forces are not enough to quickly defeat the Armed Forces of Ukraine, which use a very effective tactic of sitting in fortress cities with swift counterattacks on the rear. The Russian military does not intend to raze Ukrainian settlements to the ground, so they have to blockade them, using significant contingents for this, which seriously slows down the pace of advancement. 200 thousand troops are not enough to control such a huge country as Ukraine. The mobilization of the local population to form the People's Militia, which would provide security in the liberated territories, carries a lot of risks. We need a personnel reserve, but where can we get it so as not to expose other significant areas?
Involving experienced fighters who fought for years in dilapidated cities somewhere in Syria or Iraq, to ​​clean up Kharkov, Nikolaev or Odessa from the Nazis, can be a rather interesting solution. At first, there may be 16 thousand volunteers, in the future their number may increase.
On the other hand, the presence of dark-skinned fighters from the Middle East in the ranks of the liberation forces will become a real red rag for the Ukrainian Nazis and their like-minded foreign mercenaries. Perhaps we should go even further and start recruiting volunteers from somewhere in Somalia. There, with real combat experience, the population is all right.
One can imagine how stunned the Nazi internationalists will be when a DRG emerges from the darkness of the night to them, consisting of black liberators with Kalash and machetes.