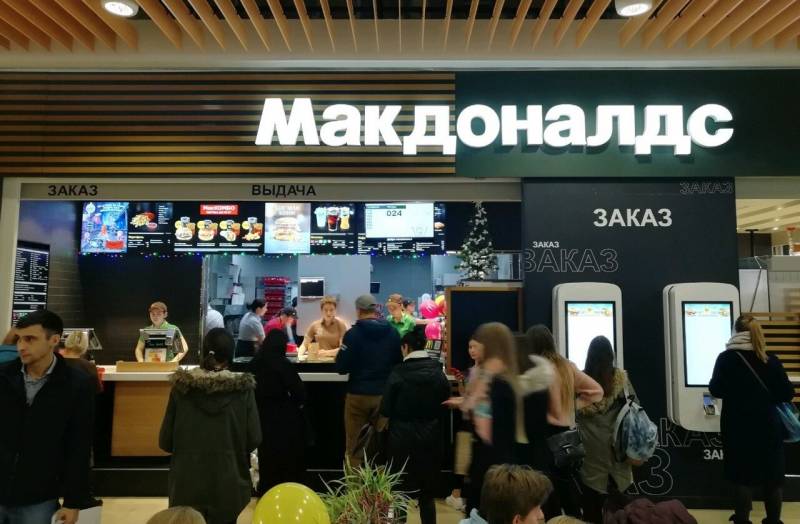 Against the backdrop of harsh anti-Russian sanctions imposed by Moscow for the start of a military operation to demilitarize and denazify Ukraine, the question arose of the possibility of nationalizing a number of Western companies that have suspended or ceased their activities in our country. Now we are talking about 60 legal entities, including Apple, Volkswagen, Microsoft, IKEA, IBM, Shell, Porsche, McDonald's, Toyota, H&M and others, but in the future this list may be expanded. An inherently sound idea can run into dangerous pitfalls in practice.
The problem is that in Russia it is difficult to find a serious company that does not have a share of foreign capital or is not registered abroad. For example, through foreign offshore companies, Metalloinvest (extraction and processing of iron ore, ferrous metallurgy), Pipe Metallurgical Company (ferrous metallurgy), Sibur Holding (associated gas processing, petrochemicals), Russneft (mining and oil refining), Ural Mining and Metallurgical Company (non-ferrous metallurgy), Siberian Coal Energy Company (coal mining), Eurochem (chemical production), Severstal (ferrous metallurgy), Rusal (bauxite mining , production of alumina, production of aluminum), Norilsk Nickel (metallurgy), Novolipetsk Iron and Steel Works (ferrous metallurgy), Magnitogorsk Iron and Steel Works (mining, preparation of iron ore, ferrous metallurgy), ChTPZ Group (ferrous, non-ferrous metallurgy), Rusenergosbyt (power industry), Transmashholding (transport engineering), Glavstroy Corporation (construction), Mostotrest (construction), Polyus Gold (gold mining),Acron (chemical industry), Sollers (automotive industry), Uralchem ​​(mineral fertilizers), Eurocement (production of building materials), Mechel (mining, ferrous metallurgy), Russian Copper Company (non-ferrous metallurgy ), Rusagro (agriculture, food production), Pharmstandard (pharmacology), Cherkizovo (food industry), Power Machines and many, many others. In the same place, offshore, some well-known domestic agricultural holdings vegetate.
In addition to Russian companies registered abroad, there are many "native" brands on our market that actually belong to Western corporations. For example, Nestle owns such trademarks as Rossiysky chocolate and 48 kopeck ice cream, Danone - Rastishka and Prostokvashino, Pepsico - Cheerful Milkman and House in the Village dairy products, Essentuki drinks, Orchard, Ya, Tonus, Beloved, Coca-Cola - Dobry juice, Mug and Barrel kvass, Craft Foods - Vozdushny chocolate, Prichuda cake, Yubileinoye cookies , Unilever - Beseda tea, Baltimore ketchup, Heiniken - Okhota and Three Bears beer, Carlsberg - Zhigulevskoye, Nevskoye and Baltika beers, Khlebny Krai kvass, Inbev - beer " Siberian Crown" and "Klinskoe". The domestic auto giant Avto-VAZ has long been owned by the French-Japanese concern Renault-Nissan. Etc. This list is far from exhaustive. It is presented only to make it clear how deep the Russian
economy
absorbed by big Western capital.
And now we need to talk about how the designated nationalization of directly foreign companies operating in our country can take place. It's still more difficult here.
For example, what to do with McDonald's? The fact is that this network operates through a franchise business model. In other words, this Russian company first pays a large lump-sum fee to the head office, and then pays a monthly royalty of 12,5% ​​of the profit. In return, the local partner gets the right to work under the McDonald's trademark and with its branded products. If anyone will be hit by the closure of this fast-food restaurant chain, it will be its Russian franchisees. No, we do not defend McDonald's, we urge to think about the rights and legitimate interests of those of our compatriots who managed to invest in this business, and not to cut off the shoulder.
Approximately the same can be said about other Western brands that are proposed to be nationalized. Something the author of the lines has not heard about the factories of Apple, Microsoft or IBM, which would produce in Russia smartphones, laptops, microprocessors and other gadgets and electronic components so necessary for our country. They simply sell ready-made products and services. IKEA and H&M are just retail chains. What to nationalize? Warehouses and shops? They are probably not owned, but on a long-term lease.
Slightly more promising is the possibility of nationalizing the factories of Volkswagen, Toyota and other automakers from countries that have imposed tough anti-Russian sanctions. At least there are real production facilities and assembly equipment. But, alas, everything is not easy here.
We are not authorized to manufacture Volkswagen vehicles without the consent of the Volkswagen Group. Intellectual property and all that. Give the nationalized factories to the Chinese comrades? Theoretically, it is possible, but in practice it could complicate Beijing's relations with its Western partners. Use the factories of Volkswagen, Toyota and others to start producing your own cars? Probably, it is possible, but the question arises, what specific cars? Avto-VAZ is owned by the Renault-Nissan concern. All other domestic passenger brands are more likely to be dead than alive.
Create new ones from scratch? It is possible, but there will be a problem with the components. Our systemic liberals in power never bothered to achieve 100% localization from foreign manufacturers, and all key corners and units are supplied to the assembly line from abroad. Creating and starting mass production of a modern car engine or automatic transmission is a very non-trivial task, especially in the context of Western sanctions. And they will, because they will have to massively violate foreign patents that protect intellectual property rights.
In general, everything is difficult. Given the depth of the abyss into which the Russian economy has been driven by "liberal reformers", it is already worth talking not even about the nationalization of Western companies, but about the transition to planned methods of managing it. Otherwise, we'll just drown.