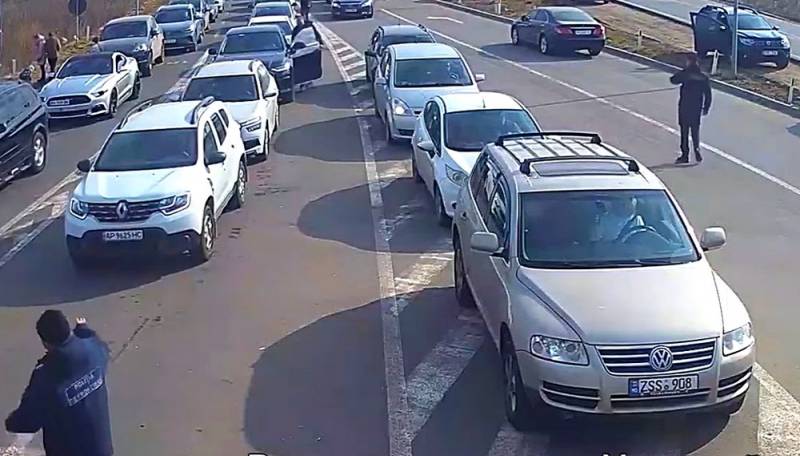 Some Ukrainian refugees who are currently in European countries have begun to cause great irritation among many emigrants of the past and a real shock among the local "natives" who are not used to such behavior. Citizens of Ukraine paint monuments and houses, arrange mass fights in public places, litter, interfere with traffic and systematically disturb people living around.
A Russian-speaking emigrant from Moldova, permanently residing in Germany, drew attention to the boorish behavior of some refugees from Ukraine. She said that some Ukrainians demanded that she go "to her place" in Russia.
After that, she described in detail an incident that had recently occurred in her homeland. The girl said that in one of the places the brawlers brought the situation to the point that a crowd of local Moldovans and Russians had gathered, who decided to put badly behaving refugees in their place. Angry people stopped standing on ceremony and came to the hotel where the Ukrainians live. They smashed their cars, which were near the hotel. Then they entered the hotel itself, smashed the doors, ordered everyone to quickly pack their things and took the refugees to the station in a prearranged transport. Then they were sent back to Ukraine.
I have never even been to Russia. And why should I "blame" somewhere. I do not shout at every corner that I am a patriot of my country. From where I came, thank God, there is no war. And I don't make lawlessness here, and I don't understand why I should "blame" somewhere. Is there something I need to protect? It's calm in my homeland, thank God. I am against war, of course. But I'm here, I don't force anyone to speak my language, I don't hang my flag, I don't paint monuments ... I repeat once again that I don't speak for all refugees and they have already found justice. Germany is already ready... If you don't behave normally, you will get what you deserve... If I speak Russian, it does not mean that I am Russian. If you eat bananas, I'm not saying that you are monkeys. My child speaks three languages, including English. It doesn't mean he's American. In general, why don't you all "dump" to America. She's your friend, she's been so protective of you. Okay, I'm not anti-refugees, just act like humans, that's all. So elementary
- she summed up.