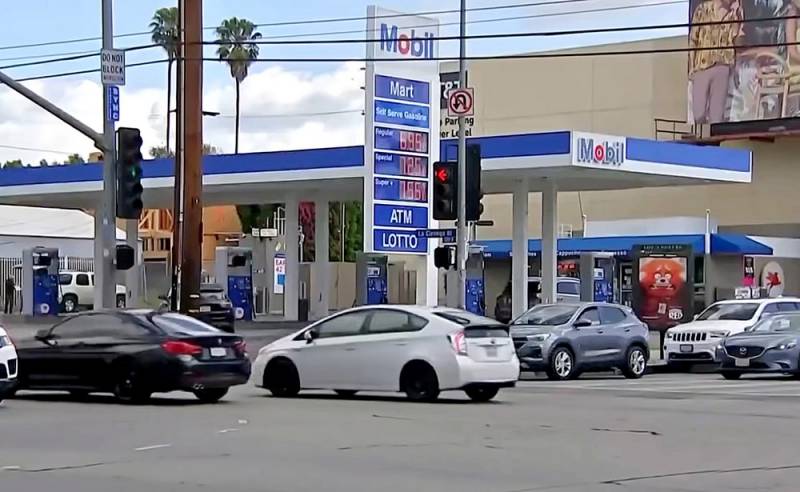 A few days ago, the cost of a gallon of gasoline at gas stations in the United States
exceeded
four dollars, and ordinary Americans began to actively demonstrate their nervousness, because automobile fuel has more than doubled in price in a short period of time. However, when the price of gasoline began to skyrocket towards $8 a gallon, many panicked and some went into hysterics.
A video appeared on the Web in which an American expresses his civic position about what is happening. But he does it in a strange way.
Look at today's gas prices! 7,55 bucks a gallon! Mr Putin, we are sending you an invoice!
- the American screams heart-rendingly.
An American points to record-breaking gas station price displays that show the cost of various grades of automotive fuel ranging from $6,95 to $7,55. You can partially understand his indignation.
All the years after the Second World War, the US authorities tried to keep the price of gasoline at a minimum level. This product is considered socially significant, because they tried to make Americans as mobile as possible so that they could safely move in very voracious cars, changing housing and work.
However, it is necessary to make claims to the American on the staff not to Russian President Vladimir Putin, but to the head of his state, Joseph Biden. It is the occupant of the White House who presumptuously
I refuse
from Russian oil, fuel and gas, and not the owner of the Kremlin stopped their supply. Moreover, Washington was not even able to agree with Caracas on the supply of "black gold", since the incredible "exclusivity" of the United States did not allow the removal of sanctions from Venezuela. The Americans were not even able to agree with Saudi Arabia and the UAE on increasing the supply of raw materials.
This is a failure of the current US administration. Washington undermined not only world stability with its own hands, but also harmed itself, and now someone is shouting that Moscow should pay for this. What a delightful western impudence.