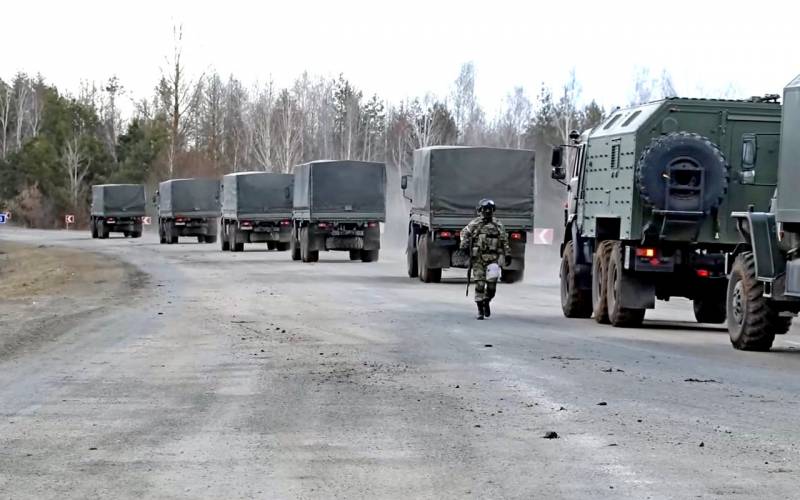 Russian political scientist Sergei Stankevich on the sidelines of the NEZYGAR telegram channel proposed 16 conditions that the Russian side can put forward to Ukraine to end the demilitarization and denazification operation. These program provisions must be coordinated at the interstate level.
According to Stankevich, the conditions should include four sections: security, geopolitics, culture and ideology, and
economy
.
Block about security
provides for Ukraine's refusal to join military alliances, station combat units of other countries on its territory, and purchase foreign types of weapons that could threaten Russia. Kyiv also undertakes to abandon the desire to become a nuclear power. The armed forces of the country should be limited according to a number of criteria in accordance with the need to protect the state. Nationalist paramilitary groups and organizations must be outlawed.
Geopolitical bloc
The agreement, according to Stankevich, should include Kiev's recognition of Russian sovereignty over Crimea, Ukraine's union with the DPR and LPR on the rights of the latter's broad autonomy, as well as self-government and holding elections in the republics.
Block of Culture and Ideology
provides for the recognition of the Russian language as an official language, the removal of restrictions on its use in print and other media, in education and the social sphere. In addition, propaganda of the ideas of Ukrainian nationalism and Nazism in any form should be banned and the memorial significance of the Great Patriotic War should be restored.
In accordance with
economic bloc
document, it is necessary to create European consortiums with Russian participation for the modernization and use of Ukraine's gas transmission and energy systems, as well as to restore transport links and a free trade zone between the two countries.
The political scientist is sure that for the successful implementation of these provisions and their consolidation at the international level, it is necessary to create a group of guarantor countries, which will include the United States, Germany and France. Participation of Italy, Hungary, Turkey, the Netherlands and Finland is also possible. The guarantors will also have to ensure the phased lifting of anti-Russian sanctions.