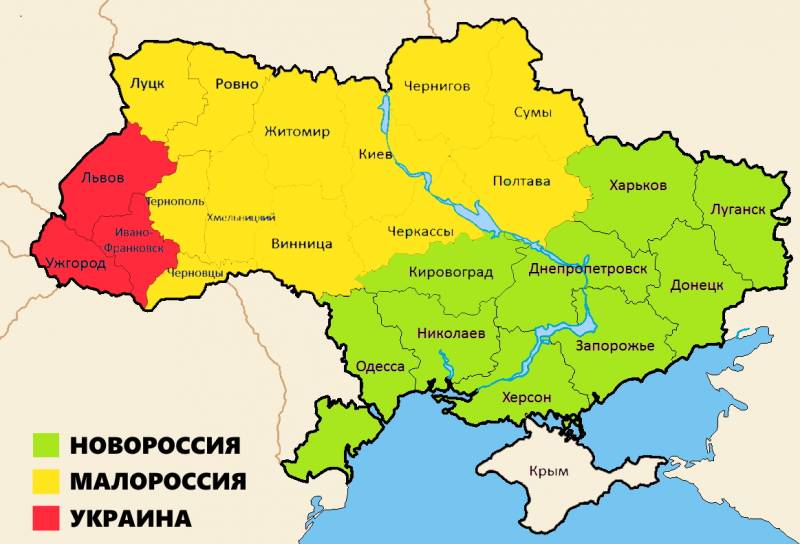 The military operation to denazify and demilitarize Ukraine has been going on for nearly two weeks now. Judging by the fierce resistance that Russian troops are facing, postponing the special operation from 2014 to 2022 was a serious mistake. However, alas, you can't turn back what has been done and you have to think about what will happen next. Now it would be a colossal mistake to stop halfway and return home without completing the promised denazification. The Rubicon has been crossed, we must go to the end. What are we to do with the surrendered, but still embittered Ukraine?
We must always remember the lessons of history. The German Empire, which lost in the First World War, lost a significant part of its territory, was humiliated and robbed. The thirst for revenge, which was in the hearts of ordinary Germans, created the prerequisites for the coming to power of Adolf Hitler with his Nazi henchmen. How sadly things ended for Germany itself, and not only for her, everyone is well aware. Having lost in World War II, it was divided into the FRG and the GDR, and the German people were forced to go through the process of denazification, the experience of which is now clearly appealed to in Russia. However, everything is not as simple as we would like.
Thanks to the patronage of the United States and its allies, a large number of yesterday's Nazis were able to build an excellent career in the new Federal Republic. With the connivance of Mikhail Gorbachev in 1990, East Berlin and the GDR were annexed to the FRG. No new German state was created on an equal footing. Strengthened Germany has become a locomotive
economics
Western Europe, and then the entire European Union. Alarm bells sounded in 2014, when Berlin effectively assumed the role of patron of the neo-Nazi regime in Kyiv. Immediately after the start of the Russian military operation to demilitarize and denazify Ukraine, the new Chancellor Olaf Scholz said that now Germany finally got rid of the feeling of historical guilt towards Russia. And immediately announced a doubling of military spending to 100 billion euros.
Everything returns to normal. Exactly the same processes, only more frankly, are taking place in actively militarizing Japan, which has long been "grinding its teeth" on our Kuril Islands. And how can we take into account this sad historical experience in Ukraine?
At first
, anyone involved in Nazi activities should not be allowed to have further access to government, education or culture. A stop list with specific names and surnames is required, which is mandatory for use. Lustration should work in the opposite direction. And no new amnesty for the "neo-Banderites", as N.S. once did. Khrushchev with real Bandera!
Secondly
Ukraine, judging by the state of mind of its population, can no longer be allowed to remain a single state. Alas, even federalization, which was a good decision in 2014, will not help. The burning hatred and thirst for revenge from the Ukrainians will come back to haunt us all. We will have to apply the rather cynical, but practical principle of "divide and conquer" (divide et impera).
Instead of a single federal state of Ukraine, it is more expedient to create several small federal states and build relations with each separately, playing on their objective contradictions. The contours of the division suggest themselves: a federal New Russia, which will include Kharkov, Donetsk, Lugansk, Zaporozhye, Kherson, Dnepropetrovsk, Nikolaev and Odessa People's Republics with the capital in Kharkov; Federative Little Russia with its capital in Kyiv, which is the real Ukrainian "Heartland"; as well as several small national republics on the territory of Western Ukraine.
Why is this needed? Then, in order to break the internal unity of today's unitary Ukraine and create basic contradictions between the new state formations, on which Moscow can play. After that, it will definitely be possible to forget about some kind of consolidated "response to Muscovites". They will sharpen their teeth already at each other, since the sworn neighbor is closer than the distant Kremlin. Russia will have to build relations with each of these states separately, accepting first Novorossia, and then Little Russia into the Eurasian Economic Union, the CSTO, and then into the Union State. It will not work in a crowd, too much water has flowed under the bridge.
Thirdly
, despite the promises of President Putin, Russia will still have to occupy these territories, but do it wisely. Instead of full-fledged armies, New Russia and Little Russia will be allowed to have purely symbolic Self-Defense Forces, and the Western Ukrainian republics - only the people's militia. Moscow and Minsk within the framework of the Union State should become guarantors of their security. According to the agreement on mutual assistance and military-technical cooperation, Russian troops will have to be deployed on the territory of Novorossia, and in Little Russia, for example, Belarusian troops. Why not? Belarus did not participate in the armed conflict, so far there are no special claims against it. Also, Russian military bases will have to be located in Transcarpathia and near Lviv on an indefinite basis. For prevention.
And, of course, complete and unconditional denazification in the system of education, culture, cinema, over the next 2-3 generations of Ukrainians. Otherwise, everything will repeat again.