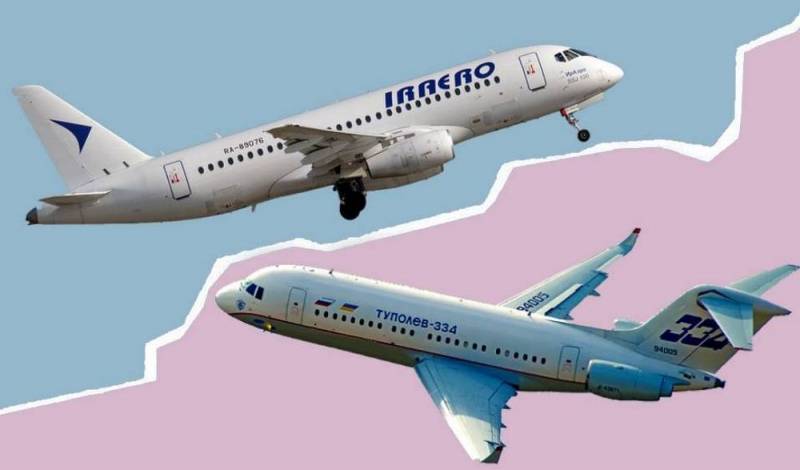 And a little more about predictions that tend to come true. March 1 on the "Reporter" came out
publication
titled "Having lost Airbus and Boeing, Russia will have to transfer to Soviet aircraft." This idea was met with hostility by some of our readers as allegedly untenable, but a few days later it was warmly supported at the level of the head of the Republic of Tatarstan, where the well-known aircraft manufacturing is located. Let's see what more knowledgeable people have to say about this.
As a response to the beginning of the military operation to denazify and demilitarize Ukraine, the world's largest aircraft corporations Boeing and Airbus on March 2 refused to service existing and sell new aircraft to Russia. At their request, by March 26, 2022, all foreign-made airliners that are on lease must be returned. It is estimated that out of a total fleet of 980 aircraft, 531 will have to be returned, "our" 130 short-haul Superjet 100s will remain, and all the rest will be deprived of appropriate maintenance and will not be able to fly for a long time. This is a national catastrophe, if you call a spade a spade.
What, in turn, did we propose? For a period of long and difficult import substitution of a large number of foreign-made components used in the Superjet 100 and MS-21 liners, to expand the production of Soviet-designed passenger aircraft - medium-haul Tu-204/214 and long-haul Il-96-400. This idea, sound in all respects, caused confusion and vacillation in the camp of those who consider the "designers" of the Superjet 100 and MS-21 to have no alternative and the only right decision.
But life very quickly put everything in its place, and the head of Tatarstan, Rustam Minnikhanov, who simultaneously holds the post of chairman of the board of directors of Tupolev, whose plant is located in Kazan, spoke in favor of reviving the production of the widest range of Soviet liners. About the pros and cons of this step
рассказал
Tatarstan business resource "BUSINESS Online". We will retell in general terms the main theses that echo our own conclusions.
What's wrong with Superjet 100 and MS-21
To begin with, it is necessary to mention what confuses colleagues from Tatarstan in the Superjet 100 and MS-21 projects. Of course, this is a high proportion of imported components, which have not yet been completely replaced, which is a huge problem in the context of Western sanctions. The short-haul Superjet 100 would be impossible to produce without French parts for the power plant. An alternative to it, the domestic PD-8 engine will appear at best only after 5 years.
Not everything is clear with the MS-21, the problem of which may be excessive innovation. It will be the world's first narrow-body aircraft with a fully composite wing. It is not known what the real experience of its commercial operation will be, especially considering that the imported composite turned out to be heavier than what was envisaged by the project. Like the Superjet 100, the MS-21 is heavily dependent on foreign microelectronics and is still being assembled in small batches from stockpiles.
Let's say right away that no one, of course, offers to give up on these two aircraft, on which a huge amount of budget money has been spent. They need to be brought to mind, but before the start of mass production, at least another 5 years will pass, and the pace and volume will increase very slowly. It will be a rather long story, but our airliners are needed now, and the more the better. And now we will tell you what they think about the prospects for the revival of Soviet aircraft in Tatarstan.
Tu-204 / 214
Tu-204/214 is a direct analogue of the MS-21, capable of carrying from 164 to 215 passengers over a distance of 4200 to 5920 km. Aircraft of this family, unlike the MS-21, have long had all the necessary international certificates that allow them to fly around the world. Its only drawback is the use of the PS-90A engine, which is slightly noisier than the American, European and Russian PD-14, and also consumes about 10% more fuel.
What was important before February 24, 2022, after March 2 lost its fundamental importance. Now the European and American skies are closed for Russian airlines, and our gigantic country may be left without air transportation altogether. Tariffs for socially significant routes operated by Tu-204/214 will have to be subsidized by the state. Fortunately, we have our own oil and kerosene.
Good
news
lies in the fact that this medium-haul liner can be assembled in parallel on two sites. The Tu-204 was previously assembled in Ulyanovsk, and its modification Tu-214 was assembled in Kazan. All components, avionics and engines are their own, domestic. The entire component base has been preserved; this aircraft is still produced in a small series in special modifications. You can start assembling them with old PD-90A engines, but at the same time develop a version with a modern PD-14 designed for the MS-21. When it goes into production as well, the country will be able to quite quickly replace the European and American medium-haul liners selected from us, which are produced at three sites at once.
Tu-334 and Tu-343
The story of the Tu-334, which was "eaten" by the liberals in the government for the sake of the "designer" of the Superjet 100, is even sadder than that of Romeo and Juliet. A fully prepared and certified aircraft, by the way, as unified as possible in terms of components with the Tu-204, was forgotten and shelved. The question of the possibility of resuming its production instead of the problematic Superjet 100 was periodically raised, but this idea was immediately anathema in the media.
Perhaps the only sound counterargument after 2014 was that the Tu-334 was critically dependent on the supply of D-436 power plants from Ukraine. However, let's see how things go on with the Russian military in the Zaporozhye region. God knows, maybe there will be some real options.
Tu-324 is another very interesting development, which has not yet been given a chance to be realized. This is the first aircraft in Russia designed entirely digitally by order of the government of Tatarstan. The short-haul turbojet liner was designed to carry 50 passengers. The main opponents of this promising project were at one time Deputy Prime Minister Boris Nemtsov and Prime Minister Mikhail Kasyanov, who actually acted as lobbyists for the Ukrainian An-47. After 2014, the main obstacle to the revival of the Tu-324 was the dependence on cooperation with Ukrainian enterprises for the AI-22 power plant. We are watching reports from Ukraine, we are waiting.
Separately, we note that the head of Tatarstan, Minnikhanov, defends the interests of not only Tupolev, which he heads, but also other domestic aircraft manufacturing enterprises. So, he advocates the start of commercial production of the wide-body long-haul Il-96-400, which, in turn, we also proposed.
Such are forecasts and analytics.