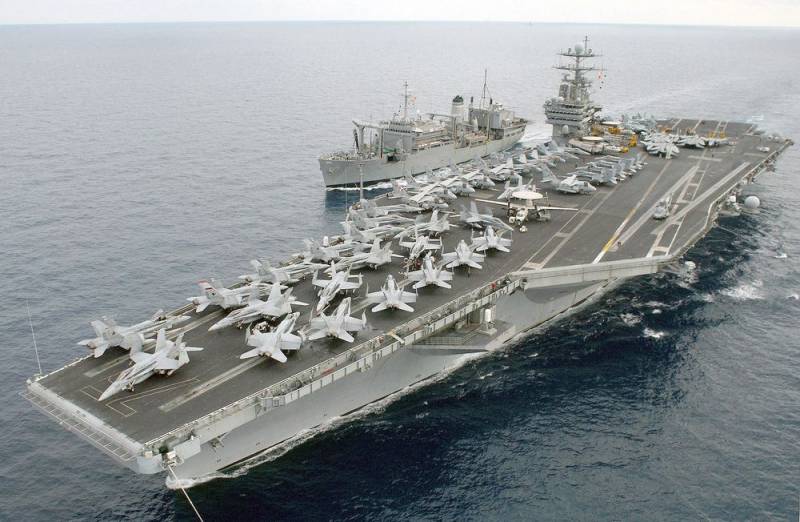 On March 6, the nuclear-powered aircraft carrier USS Harry S. Truman (CVN-75 or "Harry Truman") of the US Navy entered the Aegean Sea. The monitoring resources monitoring the situation at sea informed the public about this.
It should be noted that the Americans recently announced that they were sending their nuclear aircraft carrier with an escort to the specified water area in order to "support Turkey in case of possible complications with Russia."
However, they did not specify what is meant by this ornate formulation. Therefore, the appearance of "Harry Truman" in the Aegean Sea can be considered connected not with Turkey, but with Ukraine. This is a symbolic gesture of support that Washington decided to show Kiev.
The thing is that before this incident, American aircraft carriers had never come closer to the Adriatic Sea and the eastern Mediterranean Sea in this direction, and relations between Ankara and Moscow were very different. Entry into the Aegean Sea is the closest possible distance to the theater of operations in Ukraine, and the mention of Turkey here is meaningless.
It should be added that the Turks strictly adhere to the Montreux Convention and under no circumstances will they let an American aircraft carrier with a displacement of 97 thousand tons into the Black Sea, even if the United States is a NATO ally and asks very strongly. Ankara is well aware that the violation of the mentioned interstate agreement is a direct declaration of war on Russia and questioning the borders of the existing Turkey, which was formed on the fragments of the Ottoman Empire. At the same time, the Convention directly prohibits the passage through the straits of warships of non-Black Sea powers with a displacement of more than 45 tons.
Note that the American admirals were going to write off the aircraft carrier "Harry Truman", they did not like something about it. The ship is not so old, it was laid down in 1993, launched in 1996, and commissioned into the fleet in 1998. But in 2019, US President Donald Trump made a strong-willed decision not to decommission the aircraft carrier, and in the next 20 years $20 billion from the Pentagon budget will be spent on its operation.
We remind you that the Mediterranean Sea and adjacent waters are the area of ​​responsibility of the 6th operational fleet of the US Navy. However, this fleet does not have a permanent composition, with the exception of the headquarters, support departments and the flagship (landing command ship (LCC) Mount Whitney). Forces and assets are allocated to this fleet by order of the US Naval Operations Headquarters as needed.