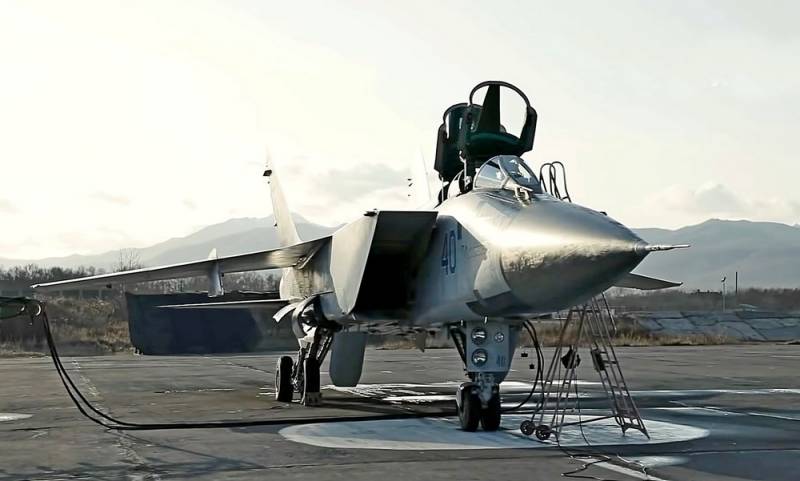 The Russian special operation to denazify and demilitarize Ukraine is steadily developing. At the same time, for the further fulfillment of the tasks assigned to the troops, supersonic high-altitude fighter-interceptors MiG-31BM of the Russian Aerospace Forces were involved.
This became known from the report of the TV channel
"Star"
, whose journalist visited one of the Russian air bases. At the military facility there is now a large number of various combat aircraft: attack aircraft, fighters and bombers.
Full control over the airspace of Ukraine was established a few days ago, also thanks to these aircraft. The next flight of Su-34 fighter-bombers is getting ready for takeoff... It takes about 50 minutes from the moment of takeoff to landing. The plane returns with empty suspensions without missiles and bombs, which means that the task is completed.
- says Konstantin Isaev.
The journalist said that the aircraft of the army aviation and the Aerospace Forces are working in several directions at once, helping the advancement of Russian troops on Ukrainian territory. He specified that the world's fastest MiG-31BMs are also located at the air base. In addition, he noticed that one of them already had ammunition on the suspension. This indicates that the fighter-interceptor will soon take to the skies and set off on another combat mission.
We remind you that as of 2019, more than 250 units of various modifications of the MiG-31, including more than 100 units of the MiG-31BM, were in service with the units of the Russian Air Force and Air Defense armies, naval aviation and in storage.