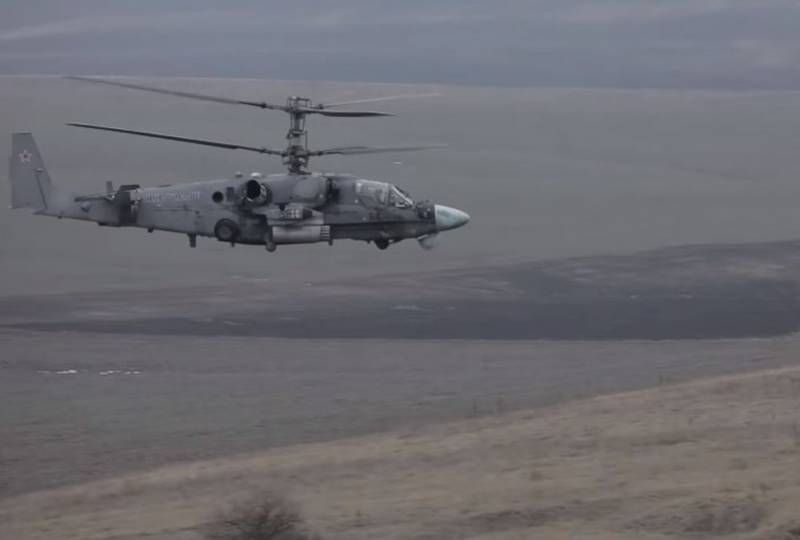 The reconnaissance and attack helicopters Ka-52 "Alligator" in the course of the implementation of the RF Armed Forces of a special military operation on the territory of Ukraine are not only involved in air cover for convoys from the Russian
technique
and landings, but also participate in missions to search for and destroy armored vehicles of the Armed Forces of Ukraine. A video has been published on the Web showing the combat use of these helicopters against Ukrainian targets.
The presented footage shows how Ka-52s use anti-tank guided missiles for their intended purpose. Crews carry out aerobatics, maneuvering, targeting and accurate missile launches.
It should be noted that as of 2021, the RF Armed Forces had 127 Ka-52 units. Since 2016, the elegant Alligators have also been deployed on Syrian soil, being part of the Russian Aerospace Forces aviation group in the SAR.
Helicopters can be armed with: one 30-mm 2A45 cannon with 460 rounds of ammunition; two 23-mm 2-barrel guns GSh-23L in hanging containers with 250 rounds of ammunition each; two ATGM 9K113U "Shturm-VU" with 6 ATGM 9M120-1 "Attack" each; two ATGMs 9K121M "Vikhr-M" with 6 ATGMs 9A4172K "Vikhr-1" each; four 9M39 Igla-V guided missiles or four 9M342 Igla-S missiles; twenty S-13 unguided rockets of 122-mm caliber or 4 × 20 - 80-mm NAR S-8; four air bombs weighing up to 500 kg each.