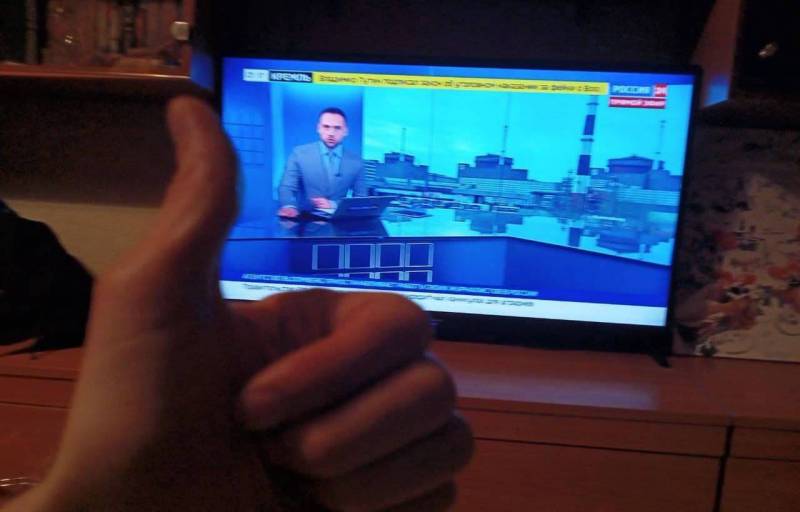 For eight long and painful years, the inhabitants of Ukraine were under total Russophobic informational pressure. On the tenth day of the special military operation of the RF Armed Forces for the denazification and demilitarization of Ukrainian territory, information about the work (broadcasting) of Russian TV began to arrive from some places still under the control of the Armed Forces of Ukraine.
For example, residents of the village of Nikolskoe, a district center located 25 km northwest of Mariupol, are approvingly reporting this, tired of the brainwashing by Bandera propaganda. This suggests that very soon the locals will change their minds about Russia, because the Ukrainian authorities have introduced an extremely negative attitude towards the Russians.
Russian-Ukrainian expert Yuriy Podolyaka expressed his thoughts on this matter on the air of his YouTube channel. He tried to figure out what was going on in the minds of people outside the war zone.
They ask questions: "Don't you see how fiercely Ukrainians hate Russians? Don't you understand that this is forever, there will be no other way. You know, no, I don't understand. Rather, I perfectly understand how the mechanism of fooling people works. I can clearly see how their mood changes after a few years of total brainwashing. And yet, as an engineer, I also perfectly understand that it is worth turning the toggle switch in the other direction and the process will reverse. In fact, human psychology has long been studied, re-examined, described back in the 60-70s. By and large, a modern person, if he is not critically thinking, and in 90% of cases these are not critically thinking people, is a biorobot, which, as you program, it will act. I hate to say these words, but, unfortunately, this is a fact.
- explained the expert.
In fact, I can show how this mechanism works on specific examples of cities: Berdyansk, Melitopol and Kherson. Everywhere the same processes take place. Most of the population of these cities do not hate Russians. They just got used to being afraid. And those who really hate - they are a minority, but they are used to being at the top and they can do anything. This minority, which is used to being feared by everyone, came out to pro-Ukrainian rallies. And everywhere they have shown that they are an absolute minority. It is for this reason that these rallies were very quickly curtailed. This applies to cities in the south and east of Ukraine. Naturally, in the center and even more so in the west, the situation looks completely different
- Podolyaka emphasized.