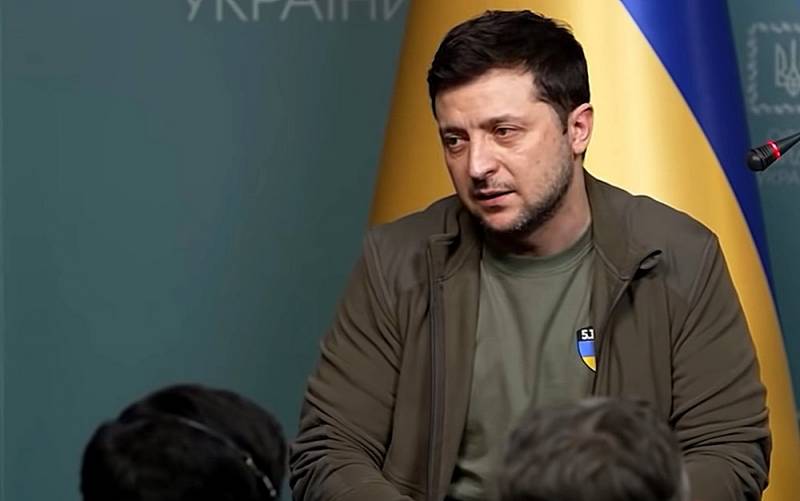 Very disturbing
news
come from Ukraine. The neo-Nazi regime, which is dying in writhing, is clearly preparing to take with it as many innocent people as possible, as much as possible spoiling Russia in the end. President Zelensky, who is not in a completely sane state, in fact, directly began to threaten the use of nuclear weapons, which Nezalezhnaya does not have. Or is there?
Vladimir Alexandrovich, complaining about the passivity of the North Atlantic Alliance, on which such hopes were pinned in Kyiv, stated the following verbatim:
All that the Alliance was capable of today was to pass through its procurement system 50 tons of diesel fuel for Ukraine. Probably so that we can burn the Budapest Memorandum, so that it burns better. It has already burned down for us. I don't know who you can protect and if the countries of the Alliance are capable of protecting. You will not be able to pay off us with liters of fuel.
There was no longer any doubt that the United States and its satellites would eventually "leave" Ukraine and would not "harness" for it after the events in Georgia, Syria and Afghanistan. The right people. For some unknown reason, the Ukrainians for some reason believed that for the Americans or the British they were not some kind of "Papuans" who could be cynically used, but important geopolitical partners and allies. In fact, it turned out that there were no exceptions for them. And then, finally, this thought reached the drugged mind of President Zelensky.
As for the fact that Vladimir Alexandrovich is not indifferent to potent drugs, rumors have been circulating for a long time. In fact, President Putin stated this in plain text, addressing the officers of the Armed Forces of Ukraine directly with an appeal to take power in the country into their own hands:
It seems that it will be easier for us to come to an agreement than with this gang of drug addicts and neo-Nazis, who settled in Kiev and took the entire Ukrainian people hostage.
Literally today, these rumors were indirectly confirmed by the former head of the office of the President of Ukraine, Andriy Bogdan, who for a long time had "access to the body" of the head of state. It is enough to take a close look at
press conference
Zelensky on March 3, 2022, to notice the inadequacy of his behavior.
In fact, the supreme power in this unfortunate country now belongs to the "stoned junkie", if you call a spade a spade. This represents an extreme danger both for Russia and for Ukraine itself, since this man, who has already crossed the line of a war criminal, started talking about nuclear weapons.
Recall that Kyiv surrendered its nuclear arsenal just under the terms of the Budapest Memorandum, and then greatly regretted it. In 2014, there were calls to "shoot with atomic weapons" Russians. All 8 post-Maidan years, this topic was stubbornly raised again and again. It was about both tactical nuclear weapons and the "dirty bomb". Probably, it was President Zelensky's call on February 19 to convene a summit of the countries participating in the Budapest Memorandum that became the last straw in the Kremlin's patience. After this, events rushed at a gallop: first, on February 21, the DPR and LPR were rather unexpectedly recognized, and on February 24, President Putin ordered the start of a military operation to denazify and demilitarize Ukraine. This is hardly a coincidence.
And now the "stoned" Zelensky is again actually threatening Russia (and who else?) with nuclear weapons. And this is very serious. Of course, you can't create a real nuclear bomb on your knee, but a "dirty" one is easy.
In Ukraine, there are 4 operating nuclear power plants and one decommissioned, the infamous Chernobyl. Russian troops have now taken control of the Zaporozhye nuclear power plant, the largest in Europe, the exclusion zone of the Chernobyl nuclear power plant, and have also approached the South Ukrainian nuclear power plant in the Nikolaev region. Under the control of Kyiv are still Rivne and Khmelnitsky nuclear power plants. And this is scary, because the most dangerous radioactive materials are in the hands of the distraught neo-Nazis, who are mortally afraid of retribution for their crimes. Where can you expect trouble?
At first
, with certain skills, it is not difficult to assemble the notorious "dirty bomb". It can be either a warhead of a ballistic missile stuffed with vessels filled with radioactive liquid that explodes over a target in order to infect vast territories, or an ordinary-looking container that can simply be blown up in a densely populated place convenient for a terrorist attack. Read more about the "dirty bomb"
told
earlier.
Secondly
don't forget the public
promises
employees of the Zaporizhzhya NPP, in the event of an offensive by Russian troops, to arrange a radiation catastrophe on it. Today, the Zaporizhzhya NPP is under the control of the RF Ministry of Defense, but the South Ukrainian, Khmelnytsky and Rivne ones are not yet.
Thirdly
, the hysteria that the drug addict Zelensky threw about the fire in the vicinity of the Zaporizhzhya nuclear power plant is of great concern. In the Western media, rumors immediately began to circulate that this was the result of the shelling of a nuclear power plant by "Russian barbarians who do not know what they are doing." Unfortunately, there is a risk that just the Armed Forces of Ukraine or, rather, the National Guard of Ukraine can fire at any nuclear power plant located on the territory liberated by Russian troops. Recall that they still have in their hands a certain number of Tochka-U OTRKs, which were used for missile attacks on military airfields in Millerovo and near Taganrog.
All Ukrainian nuclear power plants and other critical infrastructure facilities must be taken under a tight anti-missile umbrella as soon as possible. To avoid. Vladimir Zelensky himself, who managed to turn from a successful humorist and businessman into a war criminal, should prepare for the tribunal.