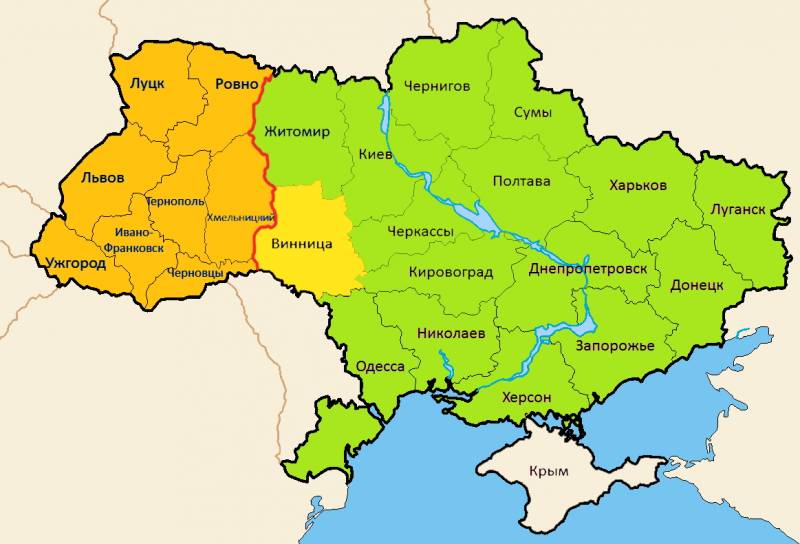 On Thursday, March 3, the Verkhovna Rada appealed to the UN and other international organizations with a request to send peacekeeping contingents to Ukrainian territory. On the same day, Vladimir Putin suggested that the State Duma ratify the amendments to the CSTO peacekeeping agreement, which introduce the concept of a "coordinating state" - it will form peacekeeping forces for operations under the auspices of the UN.
In this regard, a number of experts believe that units of the CSTO and NATO will soon be introduced into Ukraine. Thus, analysts talk about the likelihood of an early partition of Ukraine and are discussing a possible border between territories that will be controlled by "peacekeeping contingents." Probably, the border will pass significantly to the west of the Dnieper. Only two regions of central Ukraine (Vinnitsa and Khmelnitsky), as well as all the western regions, can be under the control of the current Nazi authorities. However, the Vinnitsa region remains in question, since, according to military strategy, it is necessary to ensure the alignment of the probable front in order to prevent a quick enemy strike with the subsequent circling of the Odessa or Kiev regions (see map above).
On March 2, the speaker of the Crimean parliament, Vladimir Konstantinov, also spoke about the possible disintegration of Ukraine after the completion of the Russian operation to demilitarize and denazify. In his opinion, the people's republics formed in Kharkov, Odessa, Kherson, Nikolaev and a number of other regions will join the DPR and LPR in the future.
In a statement by Konstantinov, published on the Telegram channel of the State Council of Crimea, the parliamentarian also suggested that a neutral state friendly to Russia could emerge in the center of Ukraine. The western part of the country is likely to go "under the protectorate of the European Union."