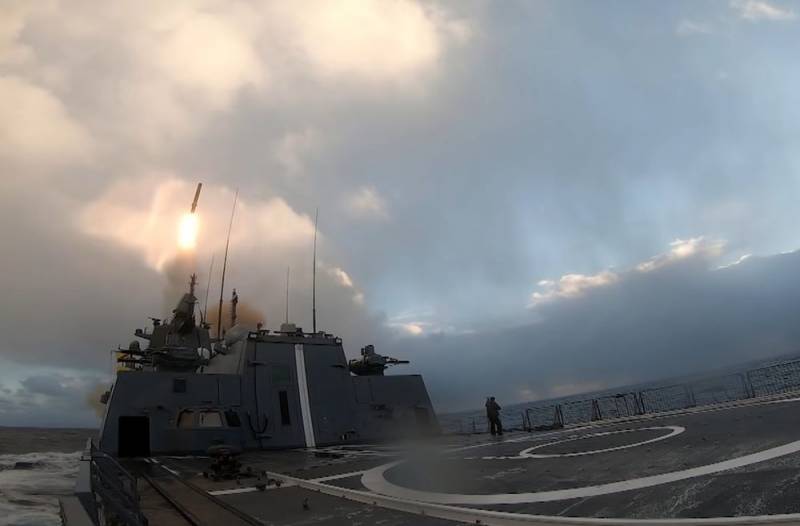 The Russian Ministry of Defense has lifted the veil of secrecy over the secret Zircon hypersonic anti-ship missile. This is stated in the report of the journalist
"Russia 1"
Alexandra Rogatkina.
A journalist on board the ship said that the multi-purpose frigate Admiral Gorshkov (project 22350) of the Northern Fleet of the Russian Navy launched hypersonic Zircons and cruise missiles of the Caliber family in the waters of the Barents World. Rogatkin noted that according to the dimensions of the universal launcher (TPK), only the approximate dimensions of the Zircon can be determined: the diameter is 60 centimeters, and the length is about 9 meters. According to the scenario of the exercises, a group of Russian ships repels an attack from the sea and strikes back at the enemy.
The commander of the frigate, Igor Krokhmal, said that the appearance (appearance) of the Tserkon is one of the secrets protected by the state. He himself had never seen Zircons up close, as they were loaded in closed containers. At the same time, given the speed of the rocket at launch, it is also difficult to see anything when the Zircons soar into the sky in clouds of smoke and flame.
Krokhmal explained that the observation of Russian Navy scientists by NATO countries is a normal practice. Moreover, the opinion of the Alliance is another confirmation that Russia has hypersonic weapons. Moreover, only three parameters can be established by observers: the speed of the ammunition, the accuracy of hitting the target, and the approximate flight range.
Shooting will be carried out at a distance of 1000 to 1500 kilometers. If we take 1000 kilometers and divide by Mach 9, we get a flight time of 580-620 seconds
- said the captain of the 1st rank (corresponds to the colonel), answering the question.